About The Nappy Lady
I'm Wendy, The Nappy Lady, and I've been married to my husband James for 14 years. We live in Farnham in Surrey, and have three children aged 12, 10, and 7 years old. The Nappy Lady was founded in 1999 to provide free, independent nappy advice tailored to YOUR needs. I believe there isn't anyone else on the internet that provides as comprehensive a service as The Nappy Lady does.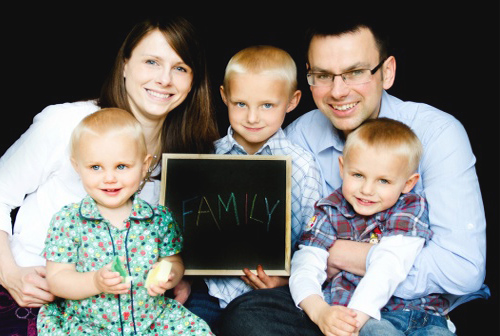 The Nappy Lady is a family business with all advice coming personally from me. When you ask for advice from The Nappy Lady that's exactly what you get. You can guarantee you're speaking to a very experienced cloth nappy user who has been there, done it, and pretty much heard and seen every possible cloth nappy scenario possible! I'm passionate about using cloth nappies and love helping parents switch to them. I host antenatal nappy demos and fittings please contact us to arrange a demo/nappy fitting.
I've been using cloth nappies since my first son was a week old. I decided to use cloth nappies when I was pregnant, both for financial and environmental reasons. I fell in love with his cloth nappies very quickly and loved showing off his cloth bum at the baby clinic. When babies two and three came along they reused our first son's nappies, giving us a wonderful financial saving of around £2500 over the 8+ years we've had cloth bums in our home!

I've been fortunate to be invited onto radio shows including Jeremy Vine, TV and in the press. I'm always happy to be interviewed and help bring modern cloth nappies to a new generation.
Wendy Richards, Director
Other members of our Nappy Lady team are:
Anna - Part of our customer service/accounts team. Anna works with Wendy processing your order and answering emails and phone queries.
Louise - Works 2 days a week supporting Anna and Wendy on our busiest days.
Roisin - Works 3 days a week helping processing orders and new product lines. Roisin helps oversea hire kits making sure they are back in time ready for the next hirer.
Cathy - Dispatching your lovely orders and incredibly neat at packing! You'll know if Cathy packed yours.
Zoe - Working alongside Cathy to dispatch your orders quickly and securely. Zoe helps keep our warehouse logical and spots any low stock level items to make sure we've got more on the way!
Gemma - Online Advisor working with Wendy offering advice all over the world.
Sarah - Online Advisor working with Wendy offering advice all over the world.
Gina - Helps admin our social media and if found online at random times like Wendy!