Herts Reusable Nappy Scheme - How To Redeem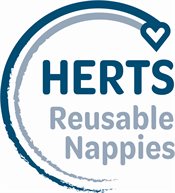 Residents of Herts (Broxbourne, Dacorum, East Herts, Hertsmere, North Herts, Stevenage, St Albans, Three Rivers, Watford and Welwyn Hatfield) qualify for a discount off their order at The Nappy Lady.
How do I apply?
You must first apply to your council via their website https://www.wasteaware.org.uk/ReusableNappies
The council will then assess your application and if you qualify you will receive a confirmation email from them (allow up to 5 days at this time but going forward this should be received within 48 hours).
Full Terms and Conditions from Herts Council are found here.
The Nappy Lady Discount
You will qualify for 15% off MOST items on The Nappy Lady site. Some items will be excluded due to already on offer or due to manufacturers request.
How to Register at The Nappy Lady
This is very simple!
1) If you don't already have one you must create an account on The Nappy Lady website. This can be done from any page on the website. At the top right click "New Account" Register using the same email address as you used with the council and complete using the same registered address. If you already have an account with us just make sure it's registered using the same email and your address is correct.
2) Email us at advice@thenappylady.co.uk forwarding a copy of your qualifying email you received from the council, along with confirmation of your registered name and address.
We will then cross check your application with the Council database and will create your own personal discount code. This will be completed within 2 working days but usually much quicker.
3) You will receive a email from us with your discount code and then you're all set! Go shopping on the site and at checkout enter your personal discount code and the website will apply the 15% discount to all relevant products.
Terms & Conditions

Your discount code is for 15% and will be valid for 1 year from the date we create it. The code can be used UNLIMITED times during this year.

When you order using your HERTS discount, your order will be double checked to ensure is it being delivered to the same registered address. The registered address MUST be the delivery address. Unfortunately any orders placed using a HERTS discount code being sent to a different address will be cancelled and refunded.



To use your discount at The Nappy Lady you need to set up an account online using the same email address as you registered with the council.
Use your council discount on any of our best selling nappies, or fill in our advice questionnaire for a personalised recommendation.
| | | | | | | | | | | | | |
| --- | --- | --- | --- | --- | --- | --- | --- | --- | --- | --- | --- | --- |
| £9.99 - £22.99 | | | £10.00 - £12.99 | | | £9.99 - £17.99 | | | | | | £122.31 £99.99 |