Reusable Nappy System Shopping List
Tuesday, 19 July 2016
What essential items do you need?
One of the things I'm asked about the most is how to put together a reusable nappy system and exactly what and how many things someone needs to get started. So, with this in mind, I've put together a quick list of reusable nappy system essentials.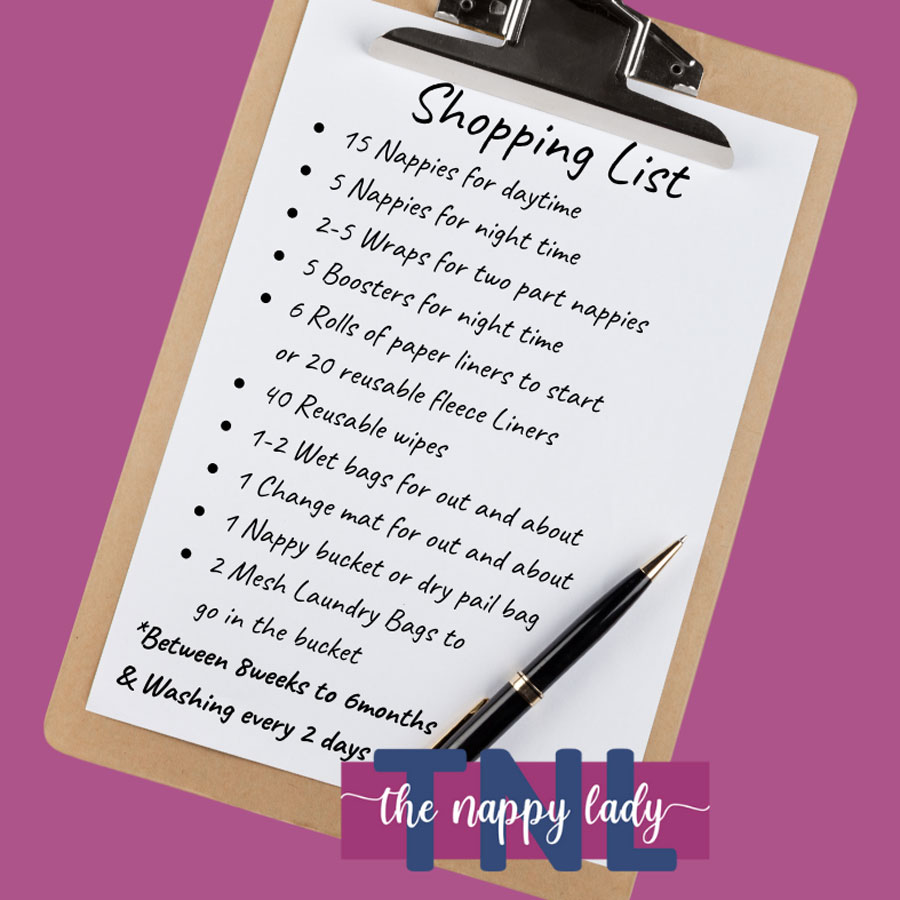 Go ahead and save the shopping list so you can refer back to it as you build your system, or print the list below and tick off as you go. Can also be used as a nappy addict prevention shopping list: you really don't NEED more than this even if you WANT more!

As always, the above list is a starting point for using cloth nappies full time and washing alternate days, for a baby from 8 weeks old. As we know, there's no such thing as an average baby so you may find that you need more or less as you get into the swing of your cloth nappy routine.

Shopping List Based on washing every 2 days from 8 weeks to 6 months old
(under 8 weeks you'd be washing daily with this list)
| | | |
| --- | --- | --- |
| X | Quantity | ITEMS |
| | 15 | Nappies for Daytime |
| | 5 | Nappies for Night Time |
| | 2-5 | Wraps for two part nappies. Ratio is 1 wrap for every 4 nappies that need a cover. |
| | 5 | Boosters for Night Time |
| | 6 | LINERS a) Rolls of Paper liners to cover the first 2 months |
| | 20 | or LINERS b) Reusable Fleece Liners |
| | 1 | Nappy Bucket |
| | 2 | Mesh Laundry Bags to go in the bucket |
| | 40 | Reusable Wipes (Ratio based on 2 per nappy) |
| | 1-2 | Waterproof storage bags for out and about |
| | 1 | Change Mat for Out and About |
Shopping List Based on washing every 2 days from 6 months PLUS
| | | |
| --- | --- | --- |
| X | Quantity | Shopping List Based on Washing Every 2 Days |
| | 12 | Nappies for Daytime |
| | 3 | Nappies for Night Time |
| | 2-4 | Wraps for two part nappies. Ratio is 1 wrap for every 4 nappies that need a cover |
| | 3 | Boosters for Night Time |
| | 3 | LINERS a) Rolls of Paper liners to cover approx. 2 months |
| | 15 | or LINERS b) Reusable Fleece Liners |
| | 1 | Nappy Bucket |
| | 2 | Mesh Laundry Bags to go in the bucket |
| | 30 | Reusable Wipes (Ratio based on 2 per nappy) |
| | 1-2 | Waterproof storage bags for out and about |
| | 1 | Change Mat for Out and About |
See below for our best sellers for each item in the shopping list:
£7.79 - £15.99

£9.99 - £17.99

£4.00 - £4.99

£1.00 - £13.99

£11.99
Fill in our advice questionnaire and receive a free nappy recommendation including exactly how much you need of each item: