The Best Reusable Nappies of 2023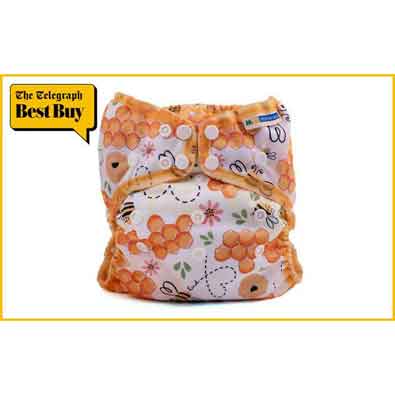 The Telegraph's 'Best Reusable Nappies' article has been one of the favourite places to go for families looking for an unbiased review of what are the best nappies available on the market at the moment.
Since the original article was published, there are so many new cloth nappies available to choose from so The Telegraph has updated the article for 2023.
Reusables or Disposables?
Parents are often undecided to use disposable nappies or reusable nappies, while we sell both on this site and offer an eco disposable nappy option, disposable nappies are a tiny miniority of what we stock and sell.
Modern cloth nappies are breathable, skin and planet friendly. A common concern is that they cause nappy rash but this is a myth, cloth nappies do not cause any more nappy rash than disposables.

The Telegraph only considered the best washable nappies from the UK so you'll be able to find and buy them easily.
So are the 2023 best nappy buys still the same?
The Wizard Uno by Motherease has once again taken the top spot for the best overall nappy.

The Bumble by Easy Peasy has also retained it's best two part nappy and the

Motherease Airflow maintains as the best wrap.
Little LoveBum A New Entry

It's fantastic to see a new entry from the relatively new brand of Little Lovebum which only started back just before Covid.
The superb Little Lovebum Popper & Pocket nappy has rightly earnt it's place as the best pocket nappy.
The Winners are:
Overall Best reusable nappy - Motherease Wizard Uno - Possibly the perfect nappy!

Best all in one reusable nappy - Bambino Mio Miosolo

Best reusable pocket nappy - Little Lovebum Popper & Pocket

Best two part nappy - Easy Peasy Bumble - Keeps baby's skin dry with it's soft fleece layer

Best reusable nappy wrap - Motherease Airflow - This is the waterproof outer layer

Best Wool nappy wrap- Disana Woolen Overpants - Another option for a natural outer layer
Best Night Time Nappy - Baby Beehinds Night Nappy
Best Night Time Pull Up - Kijani Baby Nighttime Pull Ups
Best Flat Nappy - Whitebots Terry Square - Terry Squares the ultra budget friendly traditional nappy
Best Swim Nappy - Splash About Happy Nappy
How many reusable nappies do you need?
If you're keen to use reusables day and night, then you'll need about 15-20 nappies – plus boosters. But if you just want to use them part time, 8-10 will do the job. This will make sure you're not washing nappies every day.
Why buy reusable nappies?
To save a mountain of rubbish from landfill that takes over 500 years to break down. Most children are in nappies for around 3 years, over that time they will have used over 5500 nappies. Even if you just replace one disposable nappy a day with a reusable nappy one, you'd save over 1000 nappies from going to landfill.
How often should you change reusable nappies?
The Nappy Lady recommends changing every two-and-a-half to three hours during the day and before or after every night feed for babies under six months. This changes to every three hours during the day and as needed during the night from six months onwards.