Bambino Mio Reusable Nappies
Bambino Mio is the UK's most widely used reusable nappy brand.* They've been providing parents all around the world with an award-winning range of reusable nappies, baby accessories, swim nappies and potty training essentials for the last 20 years.
Key Bambino Mio products are:
Miosolo all-in-one nappy in Classic and Supreme, Miosoft two-piece nappy, Miofresh nappy cleanser, wet nappy bag and reusable swim nappies.
Bambino Mio's Mission Statement:
It's simple. To make reusable nappies commercially acceptable worldwide and we are getting there. As parents become more interested in environmentally friendly baby products, moving away from single-use plastic products and towards less chemicals, more and more parents are trying reusable nappies for the first time.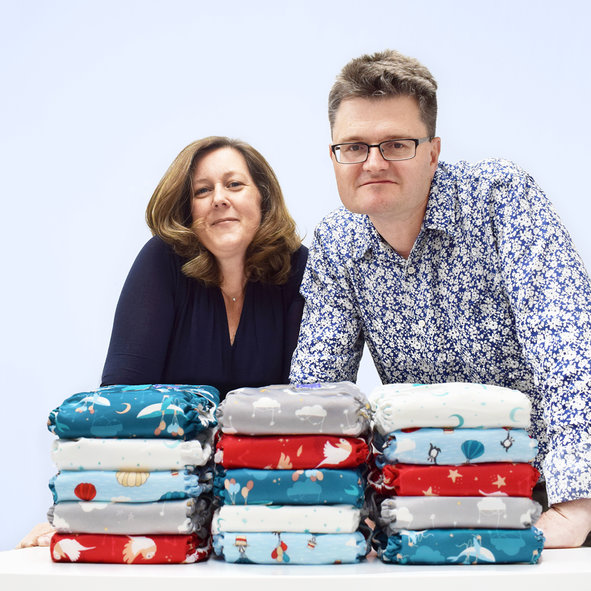 How did Bambino Mio get started?
My wife and I were travelling at the time; we met an American at the Taj Mahal in 1991. Over dinner, we got talking about a reusable nappy laundry service offered in New York and that was it! When we returned home, we started a reusable nappy laundry service from our home in Northamptonshire and we were convinced reusable nappies were the way forward. It became clear that reusable nappies were increasing in popularity, but the demand of a laundry service was limited as parents soon realised how easy they were to wash themselves and how much money could be saved by doing so. As a result, in 1997 we closed the nappy service and started to manufacture and sell reusable nappies and associated products and Bambino Mio was born.
Fun Fact:
Our brand name means "my baby" in Italian!
What is the most important thing to Bambino Mio?
Our customers. As cliché as it may sound, they are the ones who are telling us what they like, what they don't like, what they want and what they don't. They're the ones that have helped Bambino Mio get to where we are today and helping us to spread the word about reusable nappies. As a brand, we are continually striving to develop our business and become an even better one.
Did you ever expect Bambino Mio to become the brand it is today?
No. In all honesty, the growth that our product category has seen has been incredible. Bambino Mio, along with many other great reusable nappy brands have helped to drive the market forward and really helping to spread the word, change attitudes and #makeclothmainstream!
What is your most memorable moment?
When we hit 50 awards – we felt like this was an impressive milestone for us. As it stands today we've won over 60 awards and many different types. From awards voted for by parents and customers selecting our products as the best to business awards which celebrate our success in selling our products all around the world. For two years running, we've been shortlisted for the 'Amazon Growing Business Awards' – to come from humble beginnings and sit in a room with some the most well-known brands in the world is incredible for us.
Guy and Jo

Below are some of Bambino Mio's best selling products: