Reusable Nappy Week (Real Nappy Week) 2023 - What is it?
Reusable Nappy Week 2023
Reusable Nappy Week (previously Real Nappy Week) is our favourite week of the year. It's an opportunity for us to reach even more people and share the benefits of reusable nappies. While we shout about the benefits of reusable nappies constantly, this joint effort from manufacturers, cloth nappy retailers, nappy libraries, councils, NGOs and parents to all get involved helps the whole industry to reach even further and to make more people aware they they too can #choosetoreuse and ditch disposable nappies.
It began back in 1997 as a collaboration between the Women's Environmental Network, the Real Nappy Association and the National Association of Nappy Services. It was originally called Real Nappy Week. It is now an international event and is supported by retailers & manufacturers.
Held annually in April of each year, it usually co-incides with Earth Day. Reusable Nappy Week 2023 will be no different and will run from 24th-28th April 2023. Make sure you are in our Facebook Group and on our Mailing List to ensure you're the first to hear about any offers or competitions we will be running.

Did you see the best reusable nappies tried and tested in The Telegraph in 2022?

Reusable Nappy Week 2023 is on now!
Reusable Nappy Week is here and at The Nappy Lady we will be spreading the word about reusable nappies, giving reusable nappy advice, promoting the benefits of reusable nappies and how to easily make the swap from single use nappies.
---

Competitions/Giveaways
We have two amazing competitions for you this year, The Nappy Lady Reusable Nappy Awards and a Puzzle Competition.
The Nappy Lady Reusable Nappy Awards - Who will reign supreme and be voted the UK's favourite reusable nappy?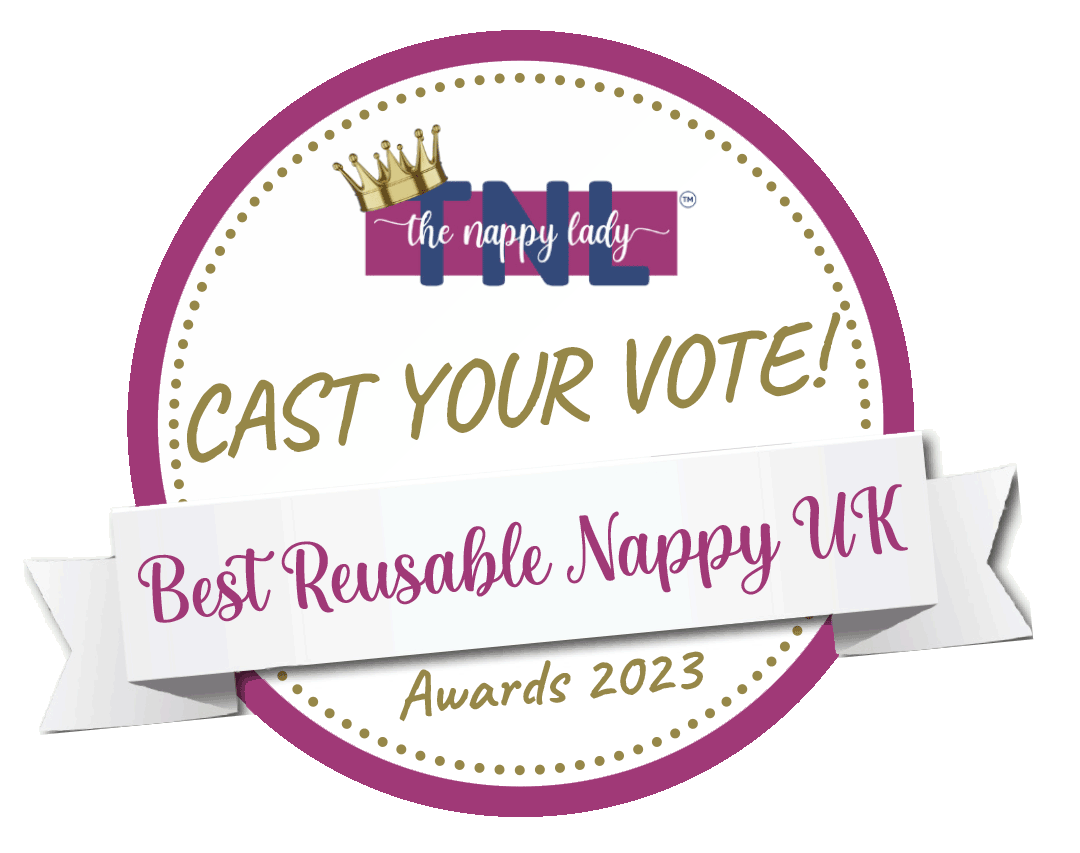 This Reusable Nappy Week we are asking you to vote for your favourite reusable nappies. Your votes will determine who is crowned King of nappies and which nappies will reign supreme in our competition. Our awards are open to everyone, no matter how big or small a company they may be. If your favourite isn't listed, you can still vote for them, just select other and type their details. The Nappy Lady's Reusable Nappy Awards are voted for by cloth nappy using families, meaning you can trust it to be a true reflection of the UK's best reusable nappies.
The winners will experience the royal treatment as we crown them following King Charles' coronation weekend. To ensure a fair competition, we have categorised the numerous products that we stock, giving your favourite brands multiple opportunities to win.
Simply use the form above to select your favourite product for each category and submit your answers. Each person can only vote once. Every completed voting form will be entered into a draw to win from our Gold, Silver & Bronze prize bundles.
Voting closes at midday on Thursday 4th May 2023.
For more information on this amazing competition and to enter/cast your vote head over to The Nappy Lady Reusable Nappy Awards page
The Nappy Lady's Reusable Nappy Week Puzzle Competition
Get your puzzling brains ready…
We all love a treasure hunt and what better time than Reusable Nappy Week. We've hidden a series of puzzle pieces around our website. Each of the puzzle pieces are hidden on a product page on our website, so make yourself a cuppa and get searching! Each puzzle piece has a letter, that when unscrambled will form a winning word! Be careful as each piece is coloured meaning that each letter may appear more than once and in a different colour. There are 10 letters to find in total and when unscrambled they create a word. Once you have all 10 pieces complete the entry form below and let us know your answer.
Competition will run from Monday 24th April to Sunday 30th April 2023 inclusive. One winner will be selected from the correct entries to win and will be notified by email using the address on your entry form.
By entering you are confirming that you are happy to be added to The Nappy Lady's email marketing list. You can unsubscribe at any time.
Competition is open from Monday 24th April to Sunday 30th April 2023. One winner will selected from the correct entries and will be notified by the email entered into the form below. Must be 18 years of age or older to enter. Competition open to residents of the UK only. Entries may be used or shared by The Nappy Lady on (but not limited to) their Facebook page, Instagram account and website. Giveaway is offered by The Nappy Lady.
Prize
6 Onesize nappies from Baba+Boo
5 Onesize pocket nappies from Little Lamb
2 Maxi Night Nappies from Petit Lulu
2 Pull Up Wraps (1 large & 1 medium) from Petit Lulu
---

What is Reusable Nappy Week?
At The Nappy Lady we love reusable nappies and what better time to share this love with you than Reusable Nappy Week! Reusable Nappy Week happens every April to celebrate and promote all things reusable nappy.
Manufacturers, retailers, nappy libraries, councils, NGOs and parents all get involved to share information on the many benefits of cloth nappies and how they could work for your family.
It's also a time for fun, with games and competitions to get involved with, and not to forget the amazing discounts to start or add to your nappy kit!
---

Nappy Advice
Here at The Nappy Lady we are all about the advice. If you're new to cloth nappies and don't know where to start, or a seasoned pro faced with a new nappy challenge, we are here to help you along every step of your family's cloth nappy journey.
Take your time to browse through our advice articles as you'll likely find the answer to anything you were puzzled by! If you're completely new to cloth nappies, the best place to start is with our free advice questionnaire. This asks lots of questions about what you're looking for in a nappy, and one of our team of experienced advisors will get back to you with a tailored recommendation on the best nappies to suit your personal requirements.
Our advisor team are on hand via the phone, email and Zoom to help with any concerns or queries.
The new troubleshooting questionnaire is the place to go with any concerns, or how about a video demo to give you a beginner's guide or help with a particular situation?
---

Discounts
This is definitely the best bit of Reusable Nappy Week for most people! When you buy from The Nappy Lady you can be sure you're getting quality nappies from reputable brands.
We've worked with some of our favourite brands to offer you some incredible savings, whether you're starting your nappy system from scratch or just can't resist that cute new print.
With everyone's minds on the rising cost of living at the moment, Reusable Nappy Week could be the time to make that budget stretch further.
---

Questionnaire
The Nappy Lady is home to the original nappy advice questionnaire! Each year we help over 20,000 families get started with cloth nappies through our free questionnaire. It takes a few minutes to complete and asks lots of questions about your baby, your household and what's important to you in a nappy.
Your questionnaire will be reviewed by one of our experienced advisors, who have all used cloth nappies full time on at least two (and in many cases three or four) children, and they'll get back to you with a personalised recommendation with a couple of nappy types to best suit your individual circumstances, along with a guide on how many you need and how to use them.
Between us we have come across pretty much every nappy situation possible! The help doesn't stop there however; we are always on hand to follow up on your recommendation if it needs tweaking to match your budget or you have any more questions.
---

Demos
If you've filled out a questionnaire, read every page on the website, visited every online forum and are now completely bamboozled by all the information out there, an online video demo could be the perfect solution. Our free group demos are for up to three families at a time and are designed as a 'beginner's guide' to everything you need to know. Your advisor can show you a selection of nappies (including the ones in your recommendation) and can answer any questions you'd prefer to ask in person.
Alternatively a one-to-one demo (£10) is just for your family and an advisor. These are ideal if you have a specific requirement or concern or would just prefer some more one on one time to go through everything at a pace that suits you.
Check available dates and book here
---

Join Our Group
Our Facebook group The Nappy Lady Pregnancy, Baby and Parenting Group is often touted as people's favourite baby related group. Our friendly corner of the internet is the place to be to ask and share nappy advice and parenting concerns and triumphs.
The best bit is that group members get a head start on new releases and discounts! See you there!
---

Newsletter
We get it: your inbox is full to bursting sometimes. The Nappy Lady email newsletter won't add to the load too often, but we do like to email now and again with a bit more focus on a particular product, share nappy advice and highlight any offers and discounts.
---

Social Media
Don't forget to follow us on our socials for regular content from the TNL team and ambassadors. You can find us on Facebook, Instagram, YouTube, Pinterest and TikTok. Come over and say hi!