Popolini Reusable Nappies
Popolini is an Austrian family business, led by a strong team of two mothers, Viktoria and Carina. Their mission is to deliver high quality organic family products and services to empower parents and their newborns to find confidence in their start into a new life. Today, the first generation of Popolini babies are using their cloth nappies for their own children!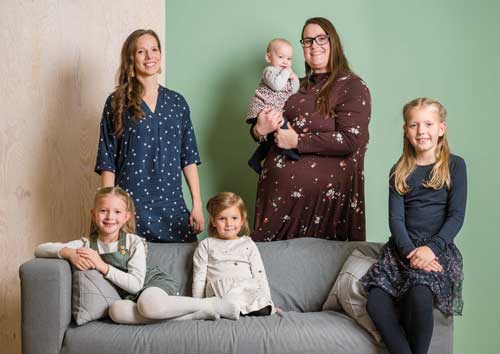 Popolini's Mission
We know how difficult it can be for new parents to gain the confidence in finding their own intuitive parenting style.
Organic parenting is...
Raising children in harmony with nature and the environment
Intuitive and confident
Sustainability for the body and mind of child and parents
Our mission...
Today: Intuitive organic parenting: our products are essentials for babies and parents. Practical, comfortable and unapologetically uncomplicated.
Tomorrow: Made to use: long-lasting fit and high product quality for a long usage time. Our products are frequently re-used and passed down.
The day after tomorrow: Organic, sustainable products, made under fair conditions. We want to create a clean world where our children and their children can grow up healthy and active.
Join us! Let's avoid social exploitation, short-lived trends, patronising new parents, product overload and unnecessary pollution.
Production
Popolini's clothing, home textiles and nappies are made from cotton from certified organic farms, organic mulesing-free merino wool and soft, natural silk. Their garments are made in a small factory in Hungary that employs around 70 people. The factory offers fair working conditions and is GOTS certified so you can be certain that the materials and production are sustainable and of a high quality.
History
1988 - first idea...
Sigrid Feyferlik discovered a modern cloth nappy in Canada and wanted to bring the nature-friendly product to Austria.
1991 - first stores...
The first stores, then called "PoPoLiNo Windelhaus" were opened in Austria. Washable nappies were imported from Japan, Canada and the USA at first.
First own nappies...
Overwhelming feedback inspired to develop and produce the first "PoPoLiNo-nappies" in Europe. Materials became organic.
Own production...
A large textile company had laid off more than 1,300 employees in a small Hungarian village. Here, Popolini found the know-how and expertise to found their own production facility. iobio clothes were developed.
2020 - next generation...
The Popolini family business was passed on to the second generation: Viktoria Feyferlik-Niermann and Carina Matzinger.
Popolini today
Today Popolini products can be found in stores all over Europe. We love to see that the first generation of 'Popolini babies' is now using their nappies for their own children.
Shop our full range of Popolini cloth nappies, wraps and accessories.