A Beginner's Guide to Using Reusable Nappies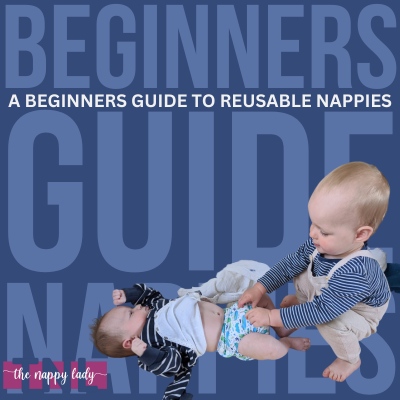 The Nappy Lady's Beginner's Guide is here to help you at the start of your reusable nappy journey.
Reusable nappies can seem overwhelming at first. By the time you get to the end of this guide you will have a much better grasp of how reusable nappies work and feel much more confident and ready to join the cloth nappy community.
Parts of a nappy
All nappies are made up of the same basic parts. Working from the outside in there is:
Waterproof outer layer - also called a nappy wrap or a waterproof cover
The waterproof outer, often called a wrap, is simply the barrier between the nappy and the clothes, to ensure that wetness stays within the nappy. Some form of barrier between nappy and clothes is essential.
Inside the wrap you have the nappy or absorbency, which absorbs the wee and contains the poo. This part can be a separate fitted or flat nappy, an absorbent inner in an all in one nappy, or an insert stuffed into pocket nappies.
Booster - increases or boosts level of absorbency
Inside the nappy you can also place an additional booster. A booster is simply a pad of absorbent fabric used to add extra absorbency to your nappy. Many babies may not need a booster during the day as standard, but you would usually use one at night time.
Liner - to make getting rid of poo easier.
Nearest baby's skin you have a liner. Liners don't have any absorbency, but instead are used to assist with the easy removal of poo and to help keep baby's skin feeling dry. Liners can be either reusable (most commonly fleece) or single use (paper material).
Examples of each of these parts are below:
Types of nappy
There are lots of different types of reusable nappy out there, each with their own pros and cons. Each type is made up of the same basic parts, just put together in a different way.
Two Part System: A two part nappy system means there is a separate nappy and waterproof wrap. These can be fitted nappies such as a Bamboozle or flat nappies such as a Terry Square.
All In One: In an all-in-one nappy, everything is put together as one single piece, so you just change the whole nappy each time. This is about as close as you get to a disposable nappy while being reusable.
Pocket Nappy: A pocket nappy has absorbent inserts that you stuff into a 'pocket' formed by the waterproof outer and fleece lining. The pocket nappy is prepared beforehand, then at change time you change the whole nappy like an all-in-one.
All In Two: An all in two nappy system falls somewhere between a two part system and an all in one nappy. The inner absorbent pads popper on to the outer wrap, so you then have a one piece nappy. At nappy change time, take out the wet insert then popper a clean insert back into the same cover.
You can read more about types of cloth nappies here.
What size do I need?
One size: Most reusable nappies are 'one size', which has poppers at the front to adjust the length as baby grows.
Here's how to adjust a one size nappy.
Sized nappies: Some fitted nappies have the option of coming in different sizes as baby grows. Unlike disposable nappies, most people will only need two sizes.
What do I need to start using reusable nappies?
The very basics you need to get started with cloth nappies are:
nappies
liners
nappy bucket or wet bag to store the wet nappies prior to washing
How many reusable nappies do I need?
You don't need to start out with your full quantity of nappies. Many families might choose to start with 2-3 nappies to see how they get on and ease themselves into it.
If and when you decide to start using cloth reusable nappies full time, you could aim for the following:
Baby under 6 months old:
15 nappies for daytime (if using different day/night nappies)
5 nappies for night time with 2-3 waterproof wraps
Baby 6 months old and over:
11 nappies for daytime (if using different day/night nappies)
4 nappies for night time with 2 waterproof wraps
If you're using a two part system full time, you'll need 1 wrap per 4 nappies.
These quantities are generally enough for full time use and washing every other day. Having a few more nappies can make your life easier, or equally you could have fewer nappies and wash every day.
We've put together a handy reusable nappy shopping list to help you get started when deciding how many nappies you need.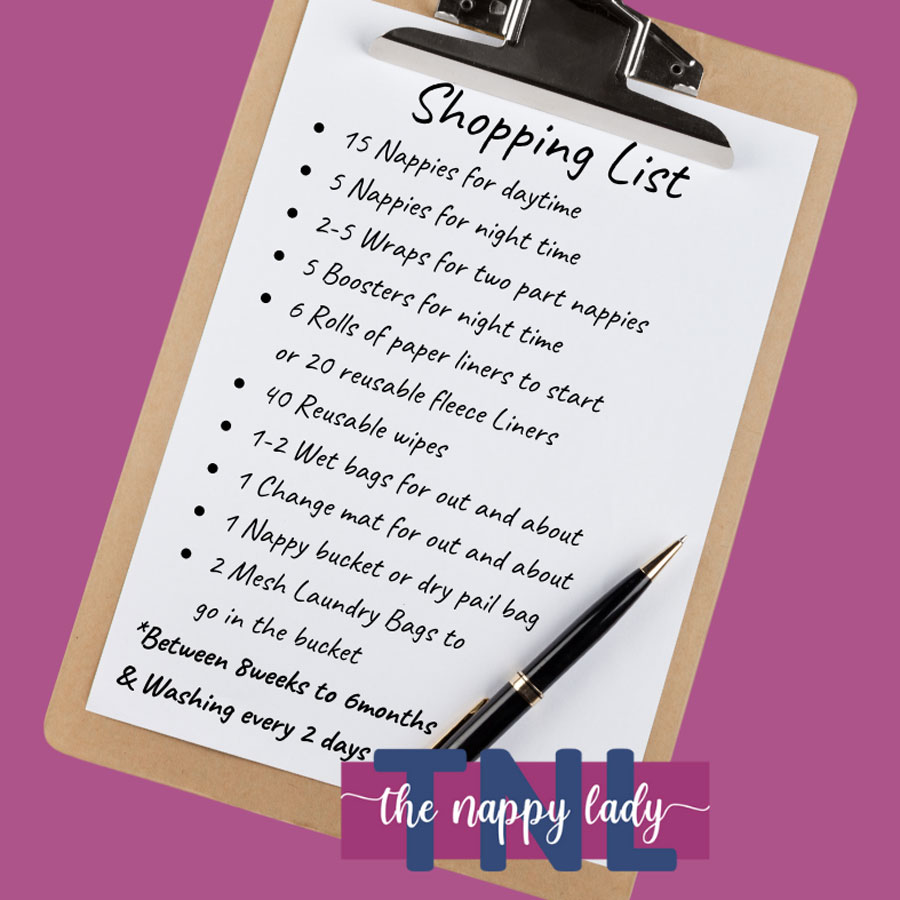 What age can you start using reusable nappies?
From day 1 if you want to! If you'd like to use reusable nappies as soon as possible after birth, you'll find it much easier to use specific newborn sized nappies. These will give you a much trimmer fit on a teeny newborn. Newborn nappies can often be hired for the short period you will need them.
Newborn nappy hire kits at The Nappy Lady
Once baby has reached 5-6kgs in weight, they can then move into a One Size nappy.
Some families prefer to use disposables for the first couple of months, while they find their feet or until baby is big enough for a one size nappy. There really isn't a right or wrong answer, just what works best for your family.
How do you deal with poo in reusable nappies?
New parents often worry how to clean dirty nappies but it's not as bad as you might think! A young (pre weaning) baby's poo is water soluble, so can just go straight in the wash. You may however prefer to remove the worst of it in order to minimise staining of soiled nappies.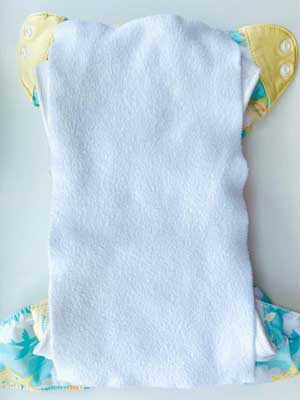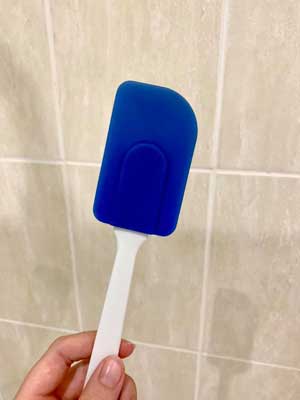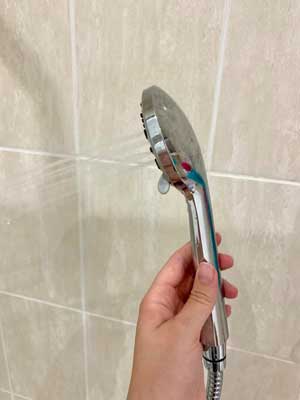 A nappy liner can help catch most of the solids. If you use paper nappy liners, simply remove the disposable liner, poo and all, and dispose of this in the bin (please don't flush them!). If you use fleece liners (also known as a reusable liner), a few favourite poo removal methods include holding the corner of the liner in the toilet flush, using a dedicated poo knife/spatula to scrape it off, or rinsing using a shower head or bidet attachment. The choice is yours! Once baby is older and established on solid foods, the poo becomes much easier to just roll off the nappy and into the toilet.
What's the best way to wash reusable nappies?
It's very simple! When you take the nappy off your little one, wet nappies just go straight into a nappy bucket. If it's a dirty nappy, you may prefer to rinse off the worst of the poo first (the liner will have caught it!) then pop the nappy and liner in the bucket until wash day.
Washing reusable nappies doesn't need to be difficult! Aim to wash your nappies every two days. A basic washing routine would be as follows:
Load the machine no more than 3/4 full when dry - basically don't overfill it.
Run a rinse or quick wash cycle without detergent. NOT a prewash but a separate rinse or quick wash cycle.
Long 40/60 deg wash, preferably at least 2 hours long and using lots of water.

A cottons wash is usually the best option to choose.
Avoid an eco wash.
Add a detergent recommended by your nappy brand (we recommend powder rather than liquid detergent).
Your detergent dose should be proportional to the size of washing load you've put in, e.g. if you have a 3/4 full drum use a 3/4 dose, half a drum load then use detergent for a half load.
NEVER any fabric softener.

Dry nappies. Ideally air dry but if you tumble only do this on low.
You can find our complete guide on how to wash your reusable nappies here.
You can also download a printable washing guide to stick next to your washing machine.
How much does it cost to wash reusable nappies?
Read our article comparing all the costs of using reusable nappies and single use disposable nappies.
You can also buy second hand reusable nappies which can bring down the upfront cost of purchasing reusable nappies. However always check how old the nappies really are, how many babies they have been used for and how they have been stored. There are always different promotions on reusable nappies and you can often pick up new washable nappies on The Nappy Lady website for little more than second hand nappies after you've paid selling site fees and shipping costs.
How often do you change a modern cloth nappies?
During the day, every 2-4 hours, depending on baby's age and how heavy a wetter they are, but always straight after a poo. At night, if you add extra absorbency, the baby can stay in the same nappy for 12 hours or more (unless they poo). Visit our how often to change cloth nappies article for full details.


Are you feeling ready to get started? The Nappy Lady is here to help!
The best place to start is with our FREE Nappy Advice Questionnaire. The questionnaire asks lots of questions about your personal priorities in a nappy, and one of our team of experienced advisors will get back to you with a tailored recommendation on the best nappy to suit your individual needs. You can also book in for a group or 1:1 video demo, and our help and advice is always free by phone or email. We make choosing reusable nappies simple!
Print your downloadable guide to using reusable nappies
Download, read and keep our printable guide book to reusable nappies.
Best reusable nappies of 2023
I hope you have found this beginners guide to reusable nappies useful and it helps you to get started on your cloth nappy journey.
Have you read The Telegraphs best tried and tested nappies for 2022?