How To Use One Size Reusable Nappies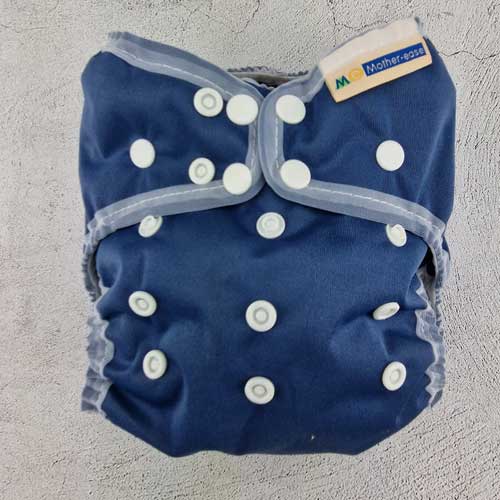 One Size or Birth To Potty Nappy?
One Size nappies are also known as birth to potty nappies or one size fits most. In the end they all mean the same thing a nappy that is designed to fit from 8-35lbs weight range.
The idea is that the one nappy fits from newborn until potty training. However with any product that has to cover such a large weight range there will be a compromise on fit and it will fit better from 10lbs onwards once your newborn has filled out a little. If you want the best fit for your newborn then you should consider getting some newborn nappies or use folded muslins in the Jo fold until baby reaches 10/12lbs
How One Size Nappies Work
One Size Nappies are altered in two ways.
Waist Adjustment
First the waist which is adjusted using poppers or Velcro. The waist will also be elasticated. Many One Size nappies allow the waist tabs to be crossed over for babies right at the bottom of the weight range.
| | | |
| --- | --- | --- |
| | | |
| Waist poppers crossed over | Waist poppers in narrow setting | Waist poppers for an older child |
Length Adjustment (Also known as Rise Adjustment)
The length or rise of a reusable nappy is adjusted by poppers on the front body of the nappy. These will usually be in a pack of poppers offering 3 or 4 different heights.
You start at the shortest length and as baby grows you un-popper and use the next set of poppers. Gradually this makes the nappy longer until you reach the full length and no longer need the length poppers.
| | | |
| --- | --- | --- |
| | | |
| Shortest length setting | Middle length setting | Longest length setting |
Pros and Cons Of a One Size Reusable Nappy
Pros
Biggest benefit is cost saving.
Generally cheaper than sized reusable nappies as you only need to buy the one size.
If you have more than one child in nappies the same nappy will fit both with a simple fitting adjustment.
The nappy grows with baby so no need to learn a different nappy system
More popular than sized nappies so easier to sell on
Cons
The biggest drawback is the compromise of fit at the bottom and top of the weight range.
You won't get a perfect fit at the bottom of the weight range on a newborn
Can be too tight on a toddler
Designed to fit the average baby shape. If you baby is bigger than average they can be too snug or outgrown.
Longevity - Birth to potty is a long time and means a LOT of washes for one child. Unlikely to last more than one child.
If you have to replace for a future child there could be lower cost savings compared to buying a sized nappy system.
TNL Tip
Adjust the rise of the nappy before putting the nappy on the child, this will help to give a much neater fit.