Airflow Small versus XS Newborn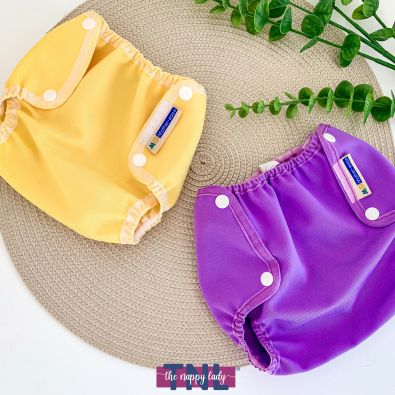 What's the difference between Small and XS Newborn?
This is a common question I've had over the years so this article is to try and explain how the two sizes differ.

Both of the Airflow wrap sizes cross a similar weight range:
XS Newborn is 6-12lbs
Small is 8-12lbs

The XS is marked on the website as a trim fit but I know the difference might not be clear by just reading that. Airflows fit like bloomers so they are loose, a bit like granny pants. They have a small gap around the thighs that allows for 'airflow' hence the name of the wrap. They are brilliant wraps to go over many different flat or fitted nappies and with the roomy bloomer fit they will cater for even a bulkier or a boosted nappy under. They are also perfect to use with muslins or any small/ xsmall/ newborn sized fitted nappy.
So how do you decide which size to get?
The weight range is so similar that it is very hard to actually go wrong but there are some subtle differences that will make one size or the other better suited to your baby.

We have some photos for reference, to show how they compare in size, the purple is a Small and the yellow is an XSmall.
The waist and leg measurements are pretty much the same for both, marginal difference if any, they are both suited to skinny little newborn legs. If you're expecting a preemie or a baby on the smaller end of the weight range I'd recommend choosing XS. If you're expecting a baby on the higher end of the weight range I'd recommend opting for S.
The type of nappy you put under also matters. For muslins that are trimmer an XS may be a better choice but either will work, whereas Bimbles are a little chunkier so S may be a roomier fit but again, both will work.
Essentially as you can see on the photos the XS is just a slightly trimmer version of the same size nappy.

I hope this little guide has been helpful and seeing the differences on photos but if you have any questions about choosing your newborn wraps or system feel free to ask here on the group or email advice@thenappylady.co.uk for expert help. You can also fill out The Nappy Lady Questionnaire for a personalised nappy recommendation if you're not sure where to start