Bare & Boho Reusable Nappies
In 2016 I began seeking reusable cloth nappies for my first baby boy, however the market was very small in Australia and no leading retailers offered any solutions. The options that were available were limited, with their styles and functionality not meeting my expectation as a minimalist parent, seeking designs of a more luxe appeal.

I decided to design my own range based on my needs- a reusable outer nappy cover featuring Australian designer artworks in nature inspired prints, as opposed to the traditional prints designed for children that feature trucks or cartoons or bright colours.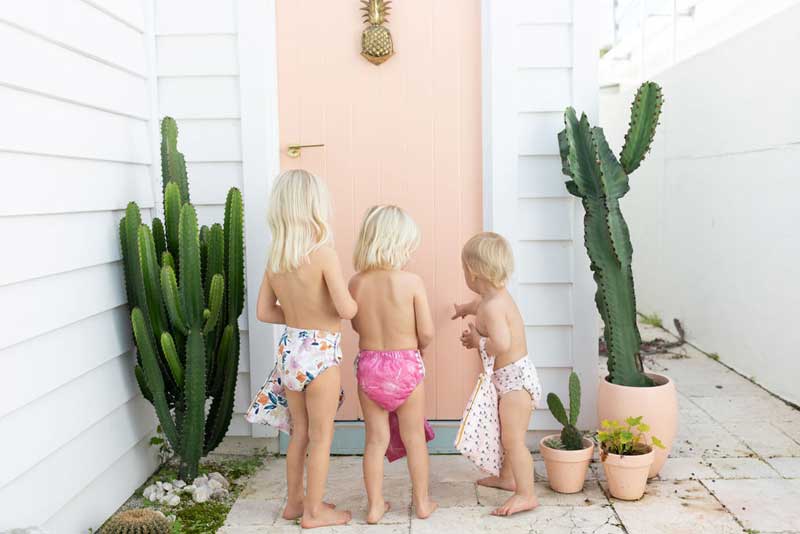 I worked with a local seamstress to produce our initial prototypes, but realised it was not viable to undertake bulk manufacturing here in Australia, as unfortunately our manufacturing capabilities had been vastly diminished in past decades. With more brands exporting designs to be produced abroad, I was able to secure my initial ethical production partner abroad.

I was able to source key design partnerships with local and exclusive designers here in Australia, who understood my vision for the brand and the moodboard we were aiming to achieve.

We have since become a category leader in the Reusable Hygiene category here in Australia, as our exclusive and much adored designer prints, functional nappies and accessories and swimwear, gained popularity via Ecommerce and Retail partnerships.

The nappy covers, as well as the nappy absorbency inners, were all designed over ongoing years since our official launch in 2017, to ensure practicality and ease of washing. We will always continue to strive to be innovative, feature trending designs, incorporate organic and recycled fibres and explore new production technologies.

The nappy components are able to be clipped together via custom snaps, which allow for the nappy to be assembled by all members of the family (parents and siblings alike), as well as come washing time, the components can be disassembled easily to ensure everything in the machine washes thoroughly.

We have since become a leader in the reusable hygiene category by introducing the highest quality recycled yarns made from post-consumer plastic bottles retrieved from ocean shores. We continue to strive for transparency in our fibre technology and our ethical production.

Bare and Boho represent a collection of reusable hygiene products that have been thoughtfully designed with all parents and babies around the world in mind.

We truly hope you enjoy the iconically Australian design of the playful prints, as well as find the functionality a useful alternative in your home and with your family members.

We will continue to grow our team, our products and our vision, to ensure we can achieve ongoing innovation for our community around the world.

From our team and family here in Australia, we appreciate all your support for our label!
- Love from Jordan (Bare and Boho Founder)
Below are some of Bare and Boho's best selling products: