Buckinghamshire Reusable Nappy Scheme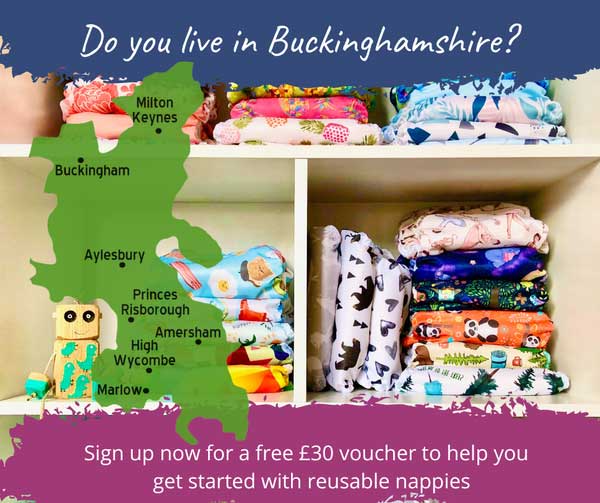 Exciting news for Buckinghamshire residents!
The latest local authority to launch their new
cloth nappy scheme
is Buckinghamshire Council. Eligible residents with a Buckinghamshire postcode can claim a voucher worth £30 to help them get started with reusable nappies.
Once you claim your voucher, our friendly team of advisors are always on hand to help you choose the most suitable nappies for your family.
How do i get my voucher?
Click below to apply for your voucher now. Within a few days your voucher will be appearing in your inbox ready for you to use!

How do I use my voucher?
Once you have your application approved by Buckinghamshire council you will receive your £30 voucher code to use at The Nappy Lady™
1. When you place your order please enter your voucher number in the "Discount Code" box. Your voucher value will be taken off of your order total.
2. Then if applicable pay any remaining balance via credit/debit card or paypal.
Your order will then be checked and dispatched.
Buckinghamshire Voucher Kit
We also offer a special Buckinghamshire nappy kit making your £30 voucher go further. The kit contains the two best selling all in one nappies.
If you don't live in Buckinghamshire don't despair!
Many other councils and local authorities also offer incentive schemes to encourage local families to use cloth nappies? Schemes range from supplying nappy packs directly to residents, offering a discount with selective partners, vouchers or cashback.
We have a handy list on the website of all the council reusable nappy schemes we are currently aware of.
Is your council there? If not and you know there is one, please let us know! Equally if you would really love your council to offer a scheme, flex that keyboard and write to your local councillors or waste management department at the council.