Buying and Selling Second Hand Nappies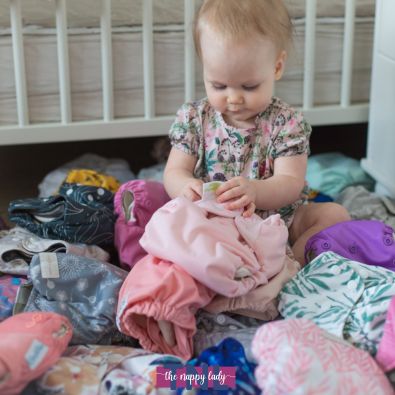 Some people are really surprised to hear that there is a very popular second hand reusable nappy market. There is often lots of life left in them so you can sell second hand cloth nappies at the end of your baby's need for them.
Selling on your second hand nappies means you can recoup some of the initial investment you made when buying them new, and buyers can pick up good quality preloved reusable nappies for a lower cost than buying new. Environmentally this is also a fantastic thing to do by keeping perfectly usable items still in circulation rather than new nappies being manufactured.
Advice for Selling Preloved Nappies
Think carefully about the price you want to sell nappies for: check out current retail prices to give you a guide. People normally won't buy second hand reusable nappies UK if they can buy new for only a few pounds more.
See what prices other people have sold their cloth nappies for second hand, not just asking price actual sold price.
Make sure you have all the parts that come with a new reusable nappy eg pocket nappies + how many inserts. Alter the price if parts are missing.
Don't forget to consider postage in the total price you charge.
Consider the Paypal fees you will be charged.
When you post items, make sure you send recorded and get a free certificate of postage. If your your parcel gets lost in the post you'll need to reimburse the purchaser and make a claim against Royal Mail.
Take lots of photos and be as clear as possible in your description, to avoid any confusion further down the process.
You can't sell used nappies on eBay. Ebay rules on reusable nappies state: "Used underwear including, but not limited to, boxer shorts, panties, briefs, athletic supporters and cloth nappies is not permitted.
Advice for Buying Second Hand Nappies
Check the condition of the nappies carefully with the seller. If buying online, check photos and get a detailed description of the nappies and any wear and tear.
How many children have the nappies have been used on? The more children the less life will be left in them.
How have they been washed?
Check out the prices of the nappies if you buy new and consider the cost of postage. Often buying new you get free shipping over a certain amount. If you buy one or two reusable nappies second hand here and there from different sellers the shipping can soon add up.
Paypal
For sellers and buyers, always pay via PayPal so you are both protected.
Where to buy and sell preloved nappies?
There is a very active buying and selling market on Facebook so have a look at the many selling groups available. The Nappy Lady has our own Facebook group where you can buy and sell your preloved used nappies for free. The Nappy Lady is not held responsible for the condition of the nappies or details of the sale but provide a group where we're refer people to.
You could also try local Marketplace or Gumtree pages online, or if you'd prefer to buy and sell in person to see the nappies first, many areas host 'baby and children's market' events or similar.
Don't forget to regularly check our own sale clearance page. We also sell on used nappies from our retired hire kit nappies as well as nappy manufacturers seconds for very reasonable prices. You can easily get a whole system at a much cheaper cost plus we offer free shipping over a varying value.