Charlie Banana Reusable Nappies
Charlie Banana™ has been making high-quality cloth nappies over a decade – they are super-soft, cute and durable. The brand was founded by Gaëlle Wizenberg in 2009 and has since won over parents' hearts and babies' bottoms in 65+ countries. All Charlie Banana™ cloth nappies meet the strict STANDARD 100 by OEKO-TEX® and are Climate Neutral Certified. The brand was selected a winner and a finalist of Mother & Baby Awards on multiple occasions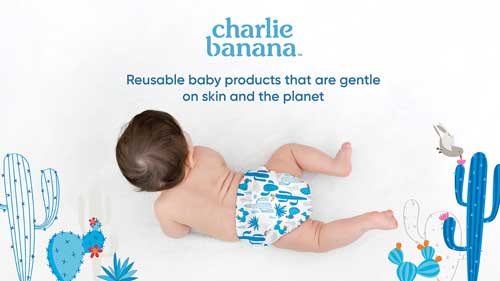 Charlie Banana Story
Charlie Banana™ has been making high-quality ultra-soft cloth nappies over a decade. Founded in 2009, the brand has since won over parents' hearts and babies' bottoms in 65+ countries.
What makes Charlie Banana different?
The biggest difference we hear people rave about is the softness. Charlie Banana nappies are really, really soft, and our customers have shared the cutest stories about how their kids literally hug their nappies after the wash.
We only use premium materials, and all our nappies meet the strict global STANDARD 100 by OEKO-TEX®, which means they have been tested against the list of 350 harmful substances. Also, our nappies grow with your baby, from newborn to potty-trained. So, you can literally just buy them once and not have to worry about nappies ever again. Some of our customers raised three children in the same nappies!
Does Charlie Banana only offer cloth nappies?
It's far more than that. We have amazing swim nappies, potty training pants and a whole bunch of cloth nappy accessories, including reusable wipes, inserts, pails, totes. We also offer disposable inserts and liners for added on-the-go convenience. And we also make the comfiest menstrual pads, which are great both for periods and postpartum.
Tell us more about your story.
The brand was founded in 2009 by Gaëlle Wizenberg, a passionate designer and a mother of two. Born in Paris, Gaëlle grew up on a boat, spending most of her childhood on Martinique and embracing the beauty of pristine blue lagoons. As an adult, Gaëlle lived in Hong Kong. She loved the vibrant, dynamic culture of the city, but also was saddened to see the amount of pollution there.
When Gaëlle had her first child, she wanted to use cloth nappies to help the planet. She was surprised to learn that cloth nappies were barely known in Hong Kong, so she decided to launch her own line. A decade later, Charlie Banana nappies have won over parents' hearts and babies' bottoms in 65+ countries.
Where does the brand name come from?
It's a funny story. The birth of the business coincided with that of Gaëlle's daughter, Charlie. She asked her son Zach to pick a middle name for his baby sister, and without a moment's hesitation Zachary exclaimed: "Banana!" It was an instant trademark registration.
Speaking of registrations. It looks like you have quite a few awards and certifications under your belt. Tell us more.
The two certifications that we are most proud of STANDARD 100 by OEKO-TEX® and Climate Neutral.
STANDARD 100 by OEKO-TEX® is an independent global third-party certification system that stands for high product safety. It is one of the world's best-known labels for textiles. If a product carries a STANDARD 100 by OEKO-TEX® label, it means that this product was tested for 350 harmful substances according to a set of strict scientific criteria that go beyond global legal regulations. All our cloth nappies, swim nappies, training pants, menstrual pad and a number of accessories are certified in this way.
Being Climate Neutral Certified means that we fully measure and offset our carbon emissions each year. In 2020 alone, we've offset 2,008 metric tonnes of CO2 — an equivalent of emissions from 437 passenger cars driven for a year. Charlie Banana was the first cloth nappy brand in the USA to obtain this certification.
And then, of course, there are different awards. Over the years, our products have won or were shortlisted for Mother & Baby Awards, Eco Excellence Awards, Mom's Choice Awards, Cribsie Awards. We are always so thankful to receive these, because they show that real-life parents have tried our products and liked them enough to cast their vote. It's a great token of appreciation and trust.
It looks like Charlie Banana does a lot in the realm of sustainability.
As a brand, we aspire to create soft products that love babies now and a greener, kinder world that will love them later.
Opting for reusable nappies already helps reduce the amount of waste a family generates — but we like to take this impact even further. This is why we offset our carbon footprint, and this is why we donate 1% of all sales to environmental causes through 1% for the Planet commitment. We also have a long-term partnership with Operation Smile, who bring safe surgical solutions to children born with cleft conditions all over the world.
We do this because we want every nappy to be more than just a nappy. We want it to become a tiny investment into a better world.
Beautiful. So looking back over the past decade, did the world of cloth nappies change in any way?
Most certainly. When Gaëlle first launched the company, in many countries, cloth nappies were rather exotic. Now we see them become more and more mainstream. In 2013, we became the first cloth nappy brand to be featured at Target, a major retailer in the USA. This was a huge breakthrough for the industry and also for parents, as before that you couldn't just come to your regular market and buy cloth nappies there.
No doubt, there is much more work and education to do in this realm, but we definitely see the change happening. More people give cloth nappies a try. More retailers, small and big, stock them. Daycare centre's embrace reusable nappies. It's a beautiful thing to witness.
If there is one thing you could tell parents who are curious about cloth nappies, but have not tried them yet — what would it be?
It is much easier than people think it is. And you don't have to do it perfectly. All it takes to start is just one reusable nappy. It's ok to not cloth diaper full time. If you are using cloth only on the weekends or only overnight, or even once a day, you are still making a difference. It might be a tiny step, but combined, even the tiniest steps can change the world.
Below are a selection of Charlie Banana's best selling products: