How to Store Nappies For Future Use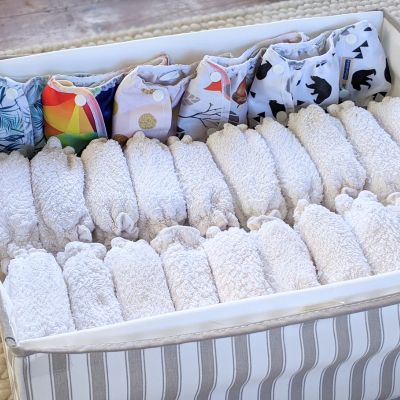 If you're between babies and need to put your nappies into storage it's important you do it in the right way to keep them in the best condition possible so you can use them again.
Complete a Nappy Lady strip wash to ensure they are thoroughly clean.

Ensure they are completely dry.
They are now ready for storage.
Don't
Don't put them in a vacuum bag, as this can damage elastics and PUL.

Don't store them anywhere that gets damp or has large variations in temperature. Lofts/garages/conservatories can fall under this category depending on your individual home. Such temperature variations are not good for the elastics, PUL or delicate fibres of bamboo.
Do
Store them in the house in a place where they will be kept at normal temperature ranges, e.g. bedrooms.

Store them in breathable bags like a fabric sack/storage bag, pillow case or cardboard boxes, rather than plastic containers.

Cupboards (not an airing cupboard), top of wardrobes, under the bed are all common places to store your nappies that won't get in your way too much.