Newborn Cloth Nappies - Real Life Stories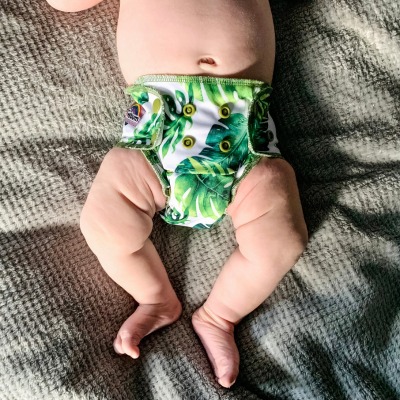 TNL Ambassador Krisztina shares her experience of using cloth nappies from newborn, and how the fit of each of her nappies changed during the early newborn phase.
Little one was born on the 25th centile and reached somewhere between 25 and 50th by around 10 weeks old, weighing around 11lb 7oz / 5.3kg.
Here's how we got on with some of our newborn nappies...
Blueberry Simplex Newborn
Day 3 - In the early days I struggled a little more with wing droop - although this could be due to total lack of sleep and that initial chaos aka user error! Baby's legs were a little less chunky which probably contributed as well. Before the cord dropped off we used the handy poppers to keep the nappy out of the way of the cord.
Day 33 - The fit is now much neater which could be that I've adjusted to this nappy (and have had a tiny bit more sleep) but also the legs have now chunked out which definitely helps. We're still on the smallest poppers so we have a lot of growing room.
Day 69 - The fit of these is still great. We have one popper left either side of the waist so still a bit of growing room. As there is no rise we won't get as long out of them as some others, but the lack of rise has made them easier to fit.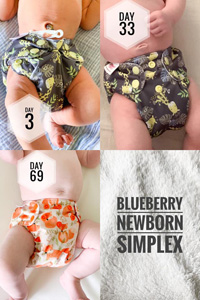 Born Smart by Smart Bottoms
Day 3 - Even at day 3 we weren't on the smallest poppers (and had to stagger for the legs) so these nappies would be great for tinnier or slimmer babies. The cord dip was very handy and I feel made a smoother fit at the tummy compared to the poppered dip in the Simplex.
Day 33 - We are having to change popper settings quite quickly on the Born Smarts. We've also had to increase the rise - they have 3 so we still have room to grow. They are super slim which I love but I don't think these will last us as long as other newborn nappies with the speed we're changing poppers.
Day 69 - I loved these nappies when she was smaller but they're now just not working for us. Her legs are just a bit too chunky and she is starting to fit into the Smart Bottoms onesize nappies. Brilliant for smaller babies starting out but finished for us after 2 months.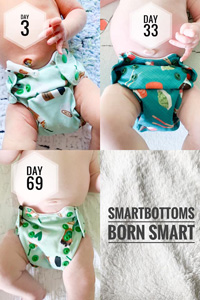 Little Lovebum Newbies
Day 2 - We used a larger popper setting in the early days - this was to accommodate the cord. I had to loosen the waist a little to ensure we didn't have rubbing or pulling. This is the main downside of the Lovebums for the first week or so.
Day 33 - We are now on the smallest settings for these still, and I have to say the containment has been fantastic. These have been our favourites and the ones I've invested in a few more of over RNW.
Day 69 - These are still fitting us really well. We're probably close to increasing the rise (there are three settings) so still have a lot of room to grow. Absorbency wise we are having to make sure we change on the 2 hours as if we leave it longer we may get leaks as she's wetting a lot more now. We will probably start boosting them to get a bit more wear out of them.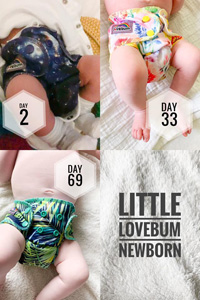 Motherease Wizard Uno XS
Day 33 - We love our onesize Unos however the XS/newborn still aren't fitting well. We have big leg gaps on the smallest settings and we've had a few poo leaks as a result. However I think in another week or so we will have more luck.
Day 69 - These are now fitting beautifully. They're slowly becoming a favourite.
Little Lamb Size 1 Fitted Nappy
Day 33 - the workhorses of our stash, these were our full nappy stash with my first. They are starting to fit us now, although not quite as tight on the legs as they should be so we're relying on the wraps more for leak protection.
Day 69 - still our workhorses. Working fabulously for nights now little one has stopped pooing at night.
Muslins
Day 33 - our handy go to! Changing every 2 hours we're still just about getting away without boosting however anything longer and we'd be pushing it.
Day 69 - we're wetting too heavily for a muslin alone now, but we can boost to get use out of them. With a reflux baby they're more than pulling their weight for spit up clean up!!