Rikki V Airflow Wraps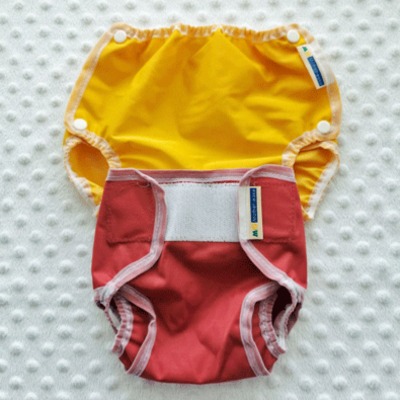 Motherease make the best reusable wraps on the market! They have been the best sellers for The Nappy Lady since we started back in 1999. Mother-ease make two types the Rikki and the Airflow so which to choose?
Rikki Wrap
The Rikki wrap is velcro fastening making it very adjustable which is really helpful with little newborns.
The Rikki has a leg gusset which makes the leg holes smaller which is best for newborn skinny legs.
Designed to fit with minimal gaps at the legs.
As baby gets older they often learn to undo velcro which is a great game, this normally starts happening around 9 months which corresponds with the average age for a baby to go into the large size. For this reason we normally swap over to recommending the airflow in the larger size to stop little fingers taking the wrap off.

Airflow Wrap
The airflow is popper fastening.
The airflow is a puffy fit because it allows more air into and is the most breathable wrap hence it's name.
Poppers are at the waist and legs so you can independently make the legs or waist smaller/bigger to fit baby.
Designed to fit loosely at the legs, you should be able to easily run your finger around the edge.
Comes further down the legs than the Rikki, making the Airflow ideal for covering wider or onesize nappies.
Being popper fastening it's not as adjustable as the Rikki as you are limited to fastening where the poppers are and can be too loose on skinny newborns.
Which to go for?
It is very common to have a mixture of both types. A popular mix would be as follows

XS, Small - Rikki as the main choice with option of mixing in 1-2 airflows in-case baby is chubby or for covering roomier/wider nappies.
Medium - Rikki or Airflow however Airflow tends to be the more popular choice.
Large, XL, XXL - Airflow