Sheila Maid Drying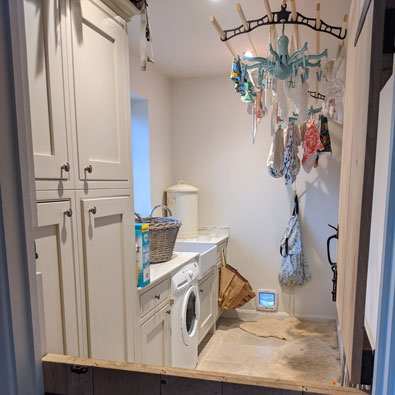 Drying racks are a necessity for every family if they want to avoid the costly tumble dryer. They work beautifully and the heated versions are increasingly popular as a cheap but quicker way to keep up with drying the laundry however unless you're fortune enough to live in large house or have a spare room they do get in the way.

We're a family of 5 so for the last 20 years finding a way to efficiently dry clothes and nappies has been a constant in my life. For many years we had ours standing over our bath but that got in the way of bathing the children. In another house we used the living room window but I had to stumble round it to close the curtains and it wasn't particuarly attractive or relaxing of an evening with a constant reminder of laundry chores to do. One house had a little alcove on the landing and I found a particularly narrow airer to put there - being at the top of the stairs this was a very efficient drying space as heat from downstairs rose up. I first heard about Sheila Maids when I joined The Nappy Lady and since that day I always wanted one but either we were rentingor the house we lived in just didn't have the space. Finally 5 years ago we were remodelling our kitchen in our "forever home" and number 1 on my list was to fit a Sheila Maid into our utility room.

A few people thought I was a bit mad as we don't live in a period house, farm house or a house with high ceilings. Our house is a traditional 1930's build and our utility room was an extension with modern average ceiling heights but I was determined it was happening! My husband balked at the price of them as they certainly aren't cheap however 5 years on I honestly can say they are the best thing i've ever bought!

I lower the Sheila Maid down to load up with laundry and then raise them up out of the way. The top sits around 20cm from the ceiling with laundry hanging down. It keeps my floor space clear and because heat rises laundry dries super fast. I squeezed two Sheila Maids into our utility room the main large one with 6 rails and a much smaller one with 4 rails. This allows me to dry 2 loads of washing at a time. As the children have got older and their tiny clothes have become adult sizes I know I would be really struggling for drying space if I just had my freestanding airers. I would end up using our tumble dryer which largely sits in the corner and is very unloved.

Our utility room isn't the pretty and traditional high ceiling room you see in a lot of the adverts for Sheila Maids. Our utility room is a working space in a traditional average house, so don't be put off. If you have the ceiling space go for it you will love it! Whenever we have a new team member or ambassador they very quickly hear about Sheila Maids and how much I love them. The photo for this blog is from one of our ambassadors who installed the Sheila Maid as part of their utility decoration and guess what she loves it too!
Wendy The Nappy Lady