What is the best hemp nappy booster?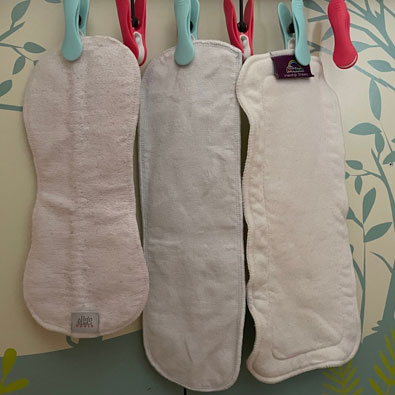 So you've heard hemp boosters are great and are thinking of getting some. But there are lots to choose from and they are not all made equal - how to choose?
Here's a quick look at 3 different options and their different strengths.
Ella's House Bum Booster:
Superstars of the cloth nappy world! With 3 layers of hemp fabric, they are known for being super slim but super absorbent. They are also a handy hourglass shape which gives a bit of extra absorbency but not too much extra width through the legs.
Easy Peasy Hemp Booster:
A chunkier booster, with 6 layers of hemp jersey. These are a very long booster which makes them better suited to older babies with their nappies on longer settings, or to go between a bulkier night nappy and a wrap. They are very narrow, which means they are less prone to compromising the fit of the nappy.
Little Lovebum Hemp Booster:
A 4-layer hemp booster which is both wide and long, ideal for use as a pocket nappy insert, as it will fill the pocket nicely. However it will also work well as a booster for an all-in-one nappy with a wider gusset, or a night nappy.
Written by Nappy Lady Ambassador, Super Mum and Reusable Nappy User Aki MacFarlane