Care of Pocket Nappies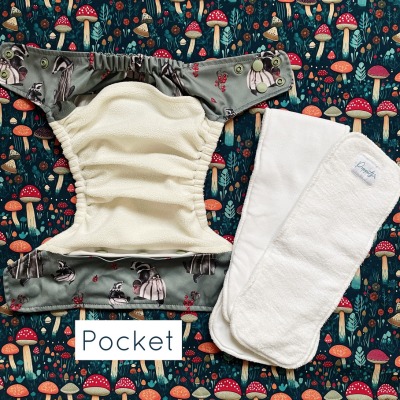 I've put together a help video which shows you how to care for and wash your pocket nappies. It's a really straightforward process, but if you're unsure of what to do then I can help point you in the right direction.
Dispose of paper liner (if using) or shake solids into toilet.
Remove insert from pocket before storing both parts (tip: stuff the inserts with the care label at the open pocket end: you can grab hold of the label for easier removal).
Always change the outer after each use, don't just add a new insert and re-use.
Always dry pail pocket nappies – if put to soak they will lose their waterproofing.
On wash day run a cold rinse cycle to remove excess soiling and urine.
Wash at 40oC or 60oC if heavier soiling, using a machine no more than 3/4 full and approx 3/4 of the recommended amount of detergent (based on the dose for a full load).
Hang to dry. They should not be dried directly on a radiator as this will ruin the outer – you can put the inserts next to a radiator, and outers on a rack close to the radiator, but not directly on it. If you have to tumble dry this must be on a low heat.
Once dry, store your pocket nappies stuffed with a fresh insert so they are ready to use. You can stuff them as you take them off the line, or save them until the end of the day to prepare them all at once.
If putting cream on baby's bottom, I recommend using a paper liner to avoid a greasy residue ending up on the fleece lining of the nappy which is very difficult to remove.
Below are our most popular pocket nappies: