What Is A Wet Bag For?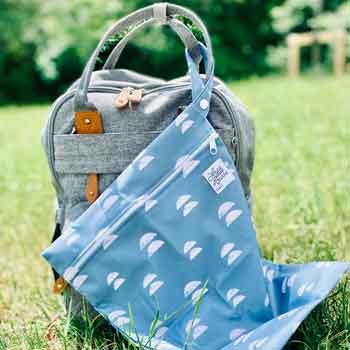 A wet bag is not just handy it is an essential item if you are using reusable nappies. A wet bag is for storing dirty nappies or wet nappies when out of the house and on the move. Wet bags come in a wide range of colour and print options
Wet bags come with a helpful carrying handle. The carry handle can be unpoppered so that you can hang it over any type of buggy or door handle.
Do you need a wet nappy bag?
Yes you will need one. If you don't have a wet bag you would end up using disposable nappy sacks, nappy bags or a plastic carrier bag to store your dirty nappies. These disposable bags will end up in landfill and a carrier bag would be unsanitary as you reuse it for food in the future.
How do you use a wet bag
Keep your wet bag with you until needed. Wet bags fold down small and flat, they don't take up hardly any room in your changing bag.
Some wet bags offer a double pocket which is really handy as you can keep clean nappies in one pocket and dirty in the other pocket. These help to keep your changing bag tidy and organised.
When you have a soiled nappy dispose of any paper liner if possible and then place the soiled nappy into the wet nappy bag.
When you get home empty the cloth nappies into your nappy bucket until you're ready for wash day.
How do you wash your wet bag?
Wet bags are very easy to wash. When you wash your wet nappy bag it is important to leave the bag open so that it washes properly. If you have a double pocket wet bag ensure you leave both pockets open.
You can wash your wet bag with your reusable nappies or with household washing. If you wash with household washing remember you must use fabric softener.
Check the washing temperature on your wet bag, it usually 40 or 60deg but some cheaper bags will be 30deg.
Your wet bag is easy to dry and will air dry very quickly so no need to tumble dry.
What material is a wet bag
Wet bags are made from PUL - polyurethene laminate. PUL is a modern breathable waterproof fabric.
Are wet bags waterproof
Yes wet bags are waterproof and designed for storing wet nappies. However please remember the zip area is the one area that will not be waterproof so keep damp items away from the zip to ensure you do not get any wicking of moisture to the outside of the bag.
How do you seal a wet bag
Wet bags come in three sealing options.
Zip or "Zippered" are the most common. These have a zip usually along the top of the bag which seals in the reusable nappies and any odours. Remember the zip area is not waterproof.
Fold down. These do not have a zip but instead they roll down from the top where the bag opens. Where the bag is folded over on itself this prevents nappies coming out of the bag but also removes the chance of wicking through a zip. An example are the Bambino Mio nappy bags or the Little Lovebum wipes pouch wet bag.

What is the best wet bag
At The Nappy Lady we stock a wide variety of wet nappy bags for you to choose from so you can find the perfect one for you.
The most popular size bought is a medium sized bag which will hold approximately 5-6 nappies so perfect for nursery or days out. Many medium bags are also available in double pocket if you like the idea of these.
Larger wet bags hold up to 15 nappies and these are ideal for a weekend away or even as a nappy bucket alternative.
Small bags are also available that will just hold 1-2 nappies. These are good for a trip to the supermarket or playgroup. You can store all your clean items inside.
What else can you store in a wet bag?
Wet bags can be used for storing any things that are damp. They are ideal for storing damp clothes or swimwear.