Why use a swim nappy?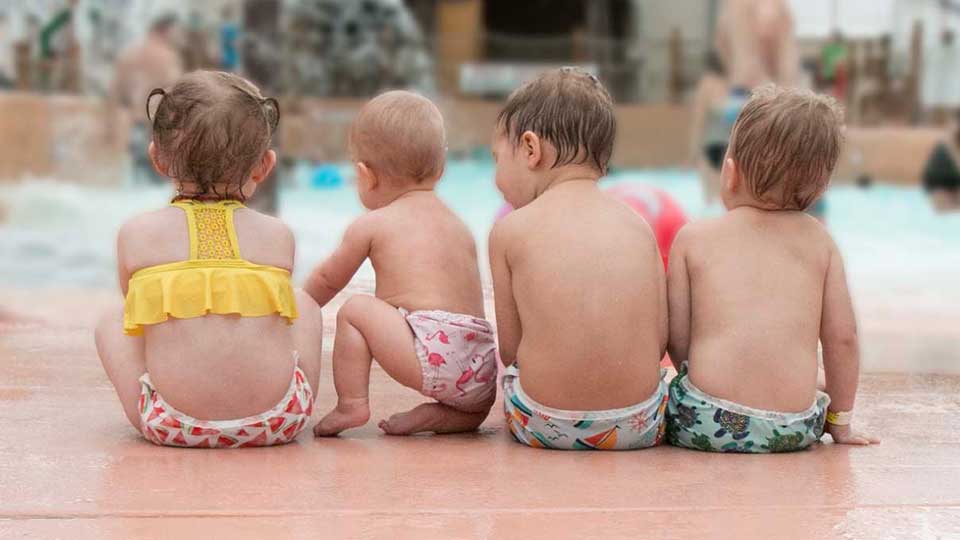 We all know how important it is to learn to swim and there is research to suggest the earlier the better. Whilst there are a whole host of Baby swim classes now available for you to attend with Baby, it can also be a really enjoyable experience for you and Baby to spend time at the local pool. However, that enjoyment can soon turn to horror if your little one is the cause of an emergency pool evacuation due to a poo escape!
A normal nappy by design, should absorb wee but of course your little one does not want to be absorbing all the pool water, so swim nappies are designed for the purpose of containing poo only. Many parents expect they will absorb wee too but if they did then they'd absorb all the pool water and the nappy would be incredibly heavy.
Many parents prepare by putting baby into their swim nappy at home and making things quicker and easier at the pool. Our ambassador Krisztina, tried this before she realised swim nappies don't absorb wee, only to have her wee through into the car seat on the journey! But fear not, you can still be swim ready when you leave home. All you need to do is add a booster inside the swim nappy, this will absorb any little accidents and then simply remove it when you get there.
What to look for in a swim nappy
Some pools insist on a two part system, for a 'belt and braces' approach. This means that they require a neoprene swim nappy over the top of another swim nappy. The
Splash About Happy Nappy
is the most commonly used neoprene cover and one most swim schools will insist on. Splash about make the neoprene cover on it's own or with a built in inner layer.
This two part system for swimming is excellent at ensuring there are no leakages. A thin inner pant to catch the poo and the neoprene Nappy providing soft flexibility.
For the layer under the neoprene cover we sell a selection of options. You can choose between Velcro fastening or snap fastening. It's worth considering both what you will find easiest to fit on your child but also what you will find easiest to remove when wet. We don't sell pull up swim pants as in our experience these are very messy to remove if a baby does poo, they have always been the least popular choice with our customer. What is important is that you get a good fitting swim nappy that doesn't have any gaps around the legs. Any gaps and the poo will seize the opportunity to escape and embarrass you when code brown is called at the pool.
If you don't have a swim nappy available, or you need an unexpected option then you can always use an empty pocket nappy. Don't forget that it needs to be empty so that it doesn't absorb all the pool water. We don't recommend this as a long-term solution as the chlorine in swimming pools will damage the pul and reduce its effectiveness over time.
If your swimming pool doesn't specify a neoprene cover, you are at the beach or just in the pool at home then you can choose to just use a swim nappy without the neoprene cover.
For more about swim nappies read our full article Baby Swimming Nappies and visit our reusable swim nappy shopping category.