Baby Swimming Nappies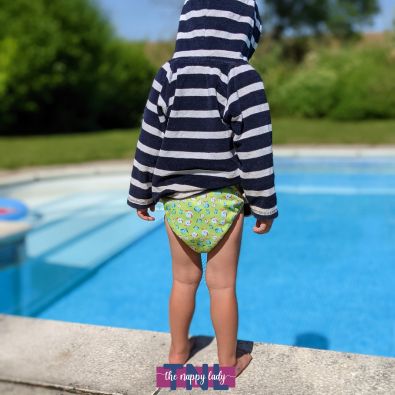 When can babies go swimming?
You can swim with babies of any age either before or after vaccinations however many parents wait until after baby has had the first set of vaccinations.
The best baby swim nappies and baby swim pants
Your little one might get nervous when you take your child or baby swimming for the first time. This is an amazing sensory experience for them as they splash in wet water and a bonding experience for you.
In addition to packing a bag to take your child swimming, baby nappies are absolutely a must. It must be an appropriate baby swimming nappy that won't become water-logged. You cannot use your regular nappies be it cloth or disposable.
At The Nappy Lady we stock a large range of different styles and brands of swim nappies, newborn swim nappies up to adult swim nappies.
Tell me the difference between baby disposable and reusable swim nappies
Swimming nappy pants can either be disposable or reusable.
Disposable swim nappies can be purchased from most grocery stores or pharmacies, they are single used and then thrown away. Huggies little swimmers are the most well-known, these didn't exist until around 2005 as they were new on the market when I had my first child. Before then parents would always use a reusable nappy. You must not dry and reuse a disposable swim nappy. Being a disposable product, we do not stock these at The Nappy Lady.
You can now find some reusable swim nappies in high street stores which is fabulous for raising awareness of reusable products but as with everything the largest choice will be online such as with us at The Nappy Lady.
Reusable swim nappies can be rinsed or machine washed, dried and used many many times making them far more cost effective than disposables. Once outgrown they can be stored ready for use by future children or passed on to others.
In terms of containment a reusable swim nappy will offer significantly higher protection against loose stools and poo leaks compared to disposables. Reusables have strong elastic and the very best are made of neoprene which is similar to wet suit material. Neoprene makes a secure snug fitting nappy. Splash About Happy Nappy is the neoprene swim nappy that many swimming pools and schools insist upon due to its superior performance.

For urine containment all swim nappies offer a very low absorbency but the chlorine in the pool is there to neutralise any urine. If a nappy offered high urine absorbency it would quickly become waterlogged and heavy.
They are designed to dry quickly so if your child comes out of the water there isn't a risk of nappy rash.
Most reusable swim nappies are designed to be worn on their own and, provided they are fitted correctly, they should be sufficient to keep any accidents contained while you get your child out of the water and to the toilet / baby changing facility.
The 3 Parts of the Happy Nappy System:
Outer Layer - is the Happy Nappy Pants. The Happy nappy is made of 1mm supple, stretchy neoprene and finished with super soft, close fitting, deep bands of rib fabric with a high rubber content. The Happy Nappy can be used on its own but for complete confidence and ease of cleaning up 'accidents', use with the inner wrap (described below). The Happy Nappy is the main barrier worn to prevent leaks. It comes in a range of sizes from newborn swimming nappies up to the largest xxl Happy Nappy.
Inner wrap - Is a lovely soft adjustable wrap made of traditional swimwear material. This is your first layer baby wears to protect against leaks and holds the paper liner secure inside. The wrap IS NOT suitable for baby to wear on its own, most baby swimming schools insist on the use of this layer as well. You do not need to use a disposable nappy, this layer is sufficient.
Optional Paper Liner -This is placed inside the inner wrap and is used to make removing solids easier. Bambinex Paper Liners are the only paper liners I stock which are suitable for use with a swim nappy. Customers do not always use paper liners it depends if your baby is prone to pooing in their swimming session.
Tell me the best feature of a swim nappy?
Swim pants need to keep the poo inside! If poo gets out of the swim nappy then the pool with become contaminated and will need to be closed while it is treated. Whether you use a disposable or a reusable swim nappy always use the layered system above. Private and a local pool usually insist on the layered swim nappies.
Swim Nappy Sizes
Both disposable swim nappies come in different sizes. Disposable nappies such as the Huggies Little Swimmers range are sized like standard nappies with adjustable tabs. You will buy many different ranges of nappy size as baby grows.
Reusable swim nappies are normally based on age and weight. Either with Velcro, Poppers or a pull on style. Most people start with the medium size in the Happy Nappy Swim system.
What do I need to take my baby swimming?
Swimming nappies, swimwear, pool toys, buoyancy aids, swimming bag, swimming shampoo for afterwards. Don't forget a changing mat as well, much better than reusing the damp swimming towel.

Swimming will make little one hungry and tired don't forget a bottle of milk if you aren't breast feeding, snacks for older children.
How do I wash reusable swim nappies?
It is important to rinse and hand wash the nappies after they've been worn. Machine wash if required. They air dry quickly without the need to tumble-dry.