Best Nappies For Night Time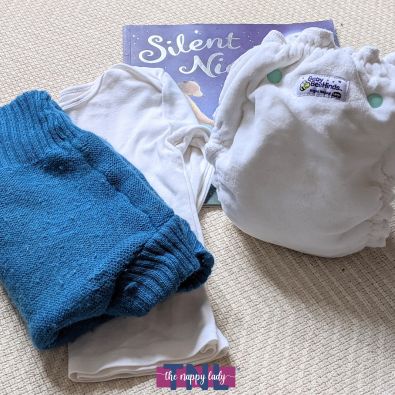 Which nappies are best for night time?
The simple answer is NOT disposable nappies. We get many parents coming to us for a reusable night nappy as their disposable nappies just can't cope with their child's night time wees.
The most reliable, best nappies for not leaking and bombproof night nappy is always a two part nappy system of a fitted nappy with a separate waterproof wrap.
A natural fabric reusable nappy will offer most absorbency; consider cotton or bamboo, or even hemp for heavier night wetters. Always avoid microfibre for night time nappies.
All-in-one and pocket nappies are generally not suitable for night time for most babies, as even with boosters they don't hold enough for all night wear.
The perfect formula for your leak free night nappy is:
High absorbency fitted nappy
PLUS super absorbent booster
PLUS reliable waterproof wrap either PUL wraps or wool wraps
Use this as a starting point to choose from the wide range of cloth nappies available to find the perfect combination for your baby.
Our best rated high absorbency night time nappies are:
Add your night time booster(s):
Finally add your night time wrap:

Newborn Night Nappies
Initially, you may be able to use your daytime nappies at night as well, since you will be changing frequently at night feed times. For that in-between stage when baby is sleeping a little longer, but not yet ready for a bulkier special night nappy, the best nappies for newborn are a fitted nappy such as the Bimble or BamBams.
A Little Lamb size 1 booster or Bambinex booster are a nice small size to fit a newborn nappy without adding too much bulk. Suitable newborn wraps would be the Motherease airflow or the Rumparooz newborn.
If you use Muslins, you can simply fold two muslins together (lay one on top of the other before folding) to give you double the absorbency.
Newborn night time nappies are:

Night Nappies for Heavy Wetters
What if you have an Olympic night wee-er, and you still have leaks even using a good two part system and all the best boosters in the world?
Consider the Baby Beehinds Night Nappy. This is a specialist range of reusable night nappies designed to cope with the most heavy duty night wetting. Due to this, it is VERY bulky, but offers the best night time absorbency of all the fitted nappies we have come across.
Night Time Nappy Advice
It is not generally wise to leave a newborn/younger child in one nappy all night (reusable or disposable) while they are still having frequent night feeds. While they are still fairly young, babies tend to poo around feed times, so leaving them in the same nappy all night may cause nappy rash to develop. Also, a child still being fed large volumes at night will wee a lot more than a child who is sleeping through. Even the best cloth nappies cannot cope with this volume of liquid without a change.
Once baby is sleeping longer stretches at night, or no longer pooing overnight, this would be when you'd consider switching to good two part nappies such as a Tots Bots Bamboozle nappy to last the whole night time.
Reusable Nappies V Disposable Night Time Nappies
A cloth nappy for night use is much bigger than a disposable, but it's worth bearing in mind that it will stay the same size throughout the night, where a disposable will have swollen and become heavier by the next morning due the chemical reaction of urine on the sodium polymer crystals, producing a gel.
Boosters
A child no longer having night feeds can easily sleep through 12 hours in the same nappy, as long as it has enough absorbency. You may find you need to add a good, highly absorbent booster to give you the capacity you need. Place a night time booster at the front (folded) for a boy or between the legs for a girl. Alternatively, to make the nappy less bulky at any particular point, you can lay the boosting along the length of the nappy.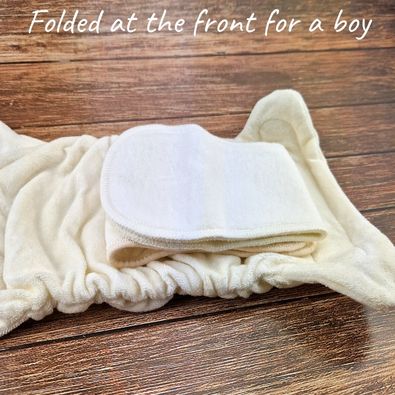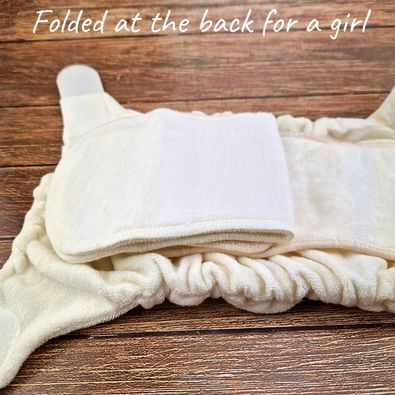 When you try the first of your night nappies, you can reduce your own anxiety by putting in two boosters into baby's nappy instead of one. When you are happy that this is reliable against leaks - you can try with just the one booster. Placing one booster inside the nappy and one on the outside (between nappy and wrap), will keep the nappy nice and trim for your baby and less likely to compromise the fit on the legs.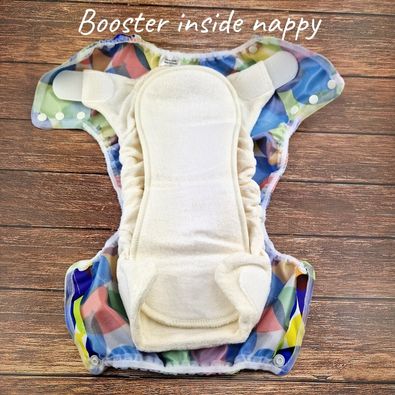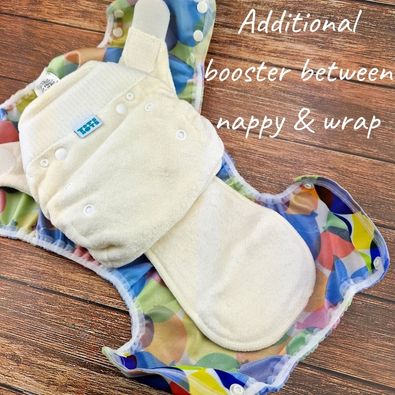 Cloth Nappies and Wetness
Please be reassured it's quite normal for the whole nappy and/or booster to be fully wet and soaked by the morning, as the whole nappy is the absorbent part.
Many babies are not at all affected by having this wetness in contact with their skin, but you may prefer to add a fleece liner to act as a stay dry layer to keep baby's skin feeling nice and dry. The Mother-ease Sandy's Staydry boosters are an excellent option as they act as both a booster and have a stay dry layer on one side. For more information on nappy change frequency read our article on how often to change cloth nappies.

Have you read The Telegraph's Best Tried and Tested nappies for 2022 including night time nappies?

Would You Like A Personalised Night Nappy Recommendation?
Do you want to know what is the best nappy brand for you for nights? Fill in our free nappy questionnaire and we'll send you a personal recommendation on the best night system for you.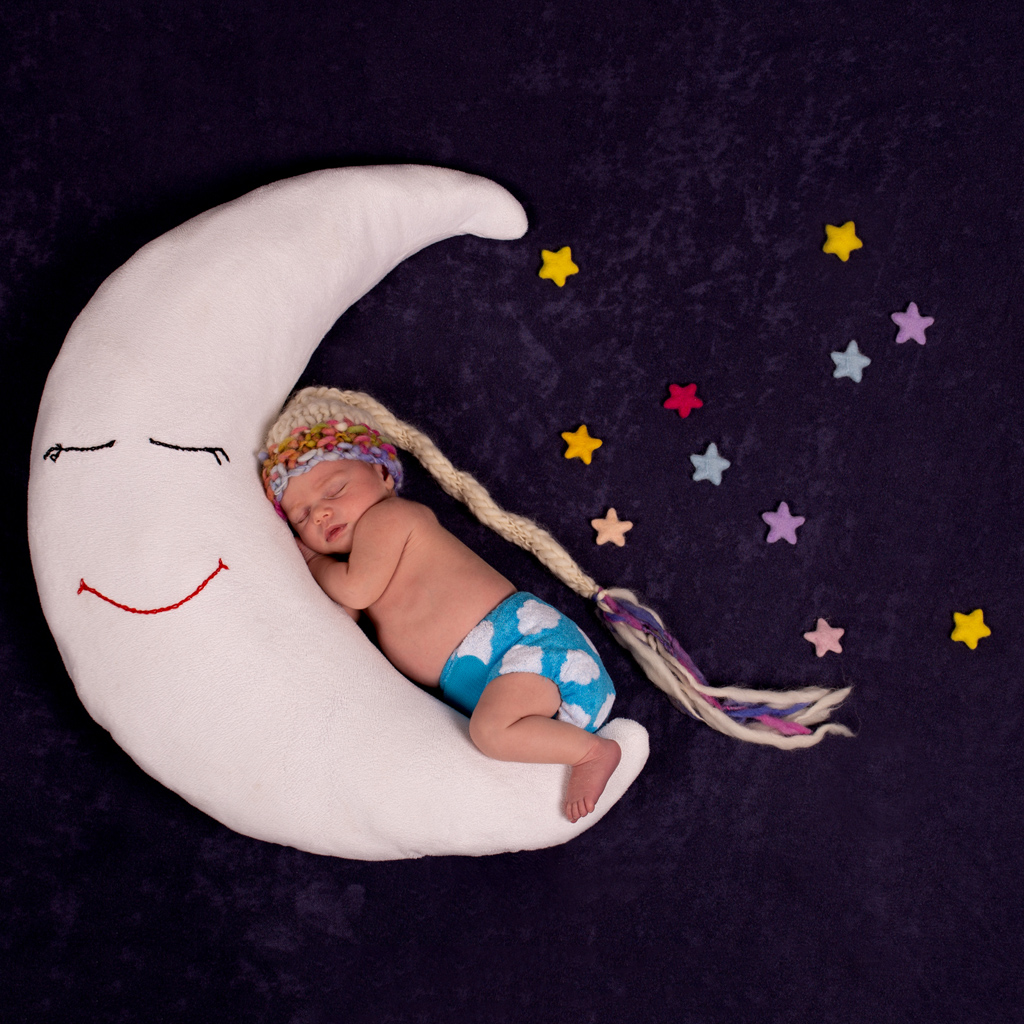 At The Nappy Lady™ stock the best nappies UK, best nappies for newborns and best nappies for 1 year old +.