The Nappy Lady Nappy Library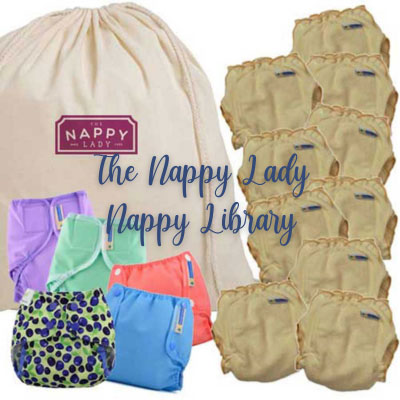 The newborn stage races by
One minute you're sitting there, trying to fathom exactly what just happened when you gave birth. Then...........welcome newborn period - that passes in a whirlwind of feeding, changing, sleep deprivation and planning your next hair wash. In a 'blink', that tiny little being that could practically fit into the cup of your hands, has somewhere, some when, turned into your baby!
Whether it was plain sailing through blissful happiness or challenging like embarking on Kilimanjaro, there is no denying, that newborn period passes in a flash.
The Nappy Lady - Nappy Library Newborn Hire Kits
The Nappy Lady offers newborn cloth nappy hire kits as part of our cloth nappy library to help out our families. Most 'Birth to potty' one size reusable nappies tend to fit better from 10lbs and some brands still sizing quite big. That's all very well if you're planning to give birth to a 10lb baby, but for the majority that newborn baby is going to need a newborn option that provides the best fit for her/him.
For such a small period of time, it's not particularly cost effective to buy a full set of newborn cloth nappies. In some cases it is just too expensive for families to consider and it is far better to spend any budget on a cloth nappy stash that is going to see 'little one' through to potty training.
Understandably, for this reason, some customers might choose to 'bridge this gap' with disposable nappies, until they embark on their cloth nappy journey with their one size birth to Birth to Potty nappies. The Nappy Lady's newborn nappy hire gives you a cost effective alternative to using disposables.
An introduction to reusable nappies
The Nappy Lady cloth nappy library offers the opportunity for a risk free introduction to reusable nappies, in a cost effective way, with nappies that are designed to give you the perfect fit on your little one. The hire kit will get you through the whole newborn period.
Here's how it works........
What are Cloth Nappy Libraries?
Nappy libraries functions like a normal library, except the users get reusable nappies instead of books. These are also called "cloth nappy libraries."
Many cloth nappy libraries are run by unpaid volunteers and rely on donations of money and reusable nappies.
How do you hire from cloth nappy libraries?
At a cloth nappy library you simply:
Choose from the available the cloth nappy kits,

Pay a small cost to hire it for a period of time

At the end of the hire return the kit of cloth nappies.

Have your holding deposit refunded.
Benefits of using a Nappy Library
A nappy library offers the opportunity to use reusable nappies, for the period that you require. Preventing you going to unnecessary expense, purchasing cloth nappies that you will only use for a short, limited period of time.
The newborn hire kit provides baby with the best fitted newborn option without compromising the effectiveness of the nappy due to the poor fit of an oversized one size nappy.
Why not buy second hand instead of borrowing?
It is true that you can borrow newborn cloth nappies from friends, or buy second hand nappies from other cloth bum parents relatively cheaply. They might not however be the right nappy for your family and it is difficult to know how well they have been looked after previously or how old they really are.
Do reusable nappies really save money?
Yes they do. Read our comprehensive guide to comparing costs of reusable nappies and disposable nappies.
Why choose The Nappy Lady Nappy Library?
The effectiveness of reusable nappies depends on firstly the nappy being well designed but also reliant on their previous 'wear and tear'. (link to care and washing guidelines). The Nappy Lady completes a full check on every kit between nappy hires to ensure each kit is in fabulous condition.
We want you to have newborn cloth nappies with strong elastics, no balding or worn out waterproofing.
With a Nappy Lady hire kit you can guarantee your hire cloth nappies will offer excellent fit and absorbency.
We sell on freshly laundered ex-hire kits in our clearance section and purchasers are often surprised at what great condition they are still in. Many other nappy libraries often buy our ex-hire nappies for their own library schemes. We replace our hire kits way before they are at the end of their life as we want only the best in our kits.
It can be so disheartening when you have made that choice to use reusable nappies only to find the nappy doesn't work for you and your family.
Firstly at TNL only the very best performing nappies make it into our hire kits so you'll always be off to a good start.

Secondly our kit contents are regularly replaced so they are in tip top condition.

Thirdly at TNL we can offer advice, guidance and support with what nappy hire kit will best suit your family's and babies needs.

Finally we provide ongoing access during the hire, to our team of advisors who can support you and answer all your questions or queries. We always have a member of our support team available every day so you get a prompt response when you contact us.
Over 90% of our parents and families who use our hire service go on to purchase and use cloth nappies on their child or children.
We needed more nappies!
The Nappy Lady Nappy library service has become so popular over the past 5 years that Wendy has invested time and money to meet the increased demand. We now have over 100 newborn hire kits available, all managed by Anna the Nappy Library coordinator.
We have reduced our hire kit waiting lists from 6 Months in advance of babies due date to, in some cases, immediate availability. We continue to monitor demand and increase availability where we can.
Early Delivery
Our increased kits has enabled us to provide the kits at least 4 weeks in advance of the hire period so that the family can practise using it. You never know you may have a surprise early arrival! This additional early delivery time is completely free and in addition to your hire period. For a newborn hire kit, your hire period doesn't start until the day baby is born.
More variety of newborn kits
We have expanded the newborn options to include 4 different types of newborn nappy hire kits.
We also offer the opportunity to explore larger one size nappies with the recent addition of 30 day hire kits and trial kits so you can try out our best selling one size nappies before committing to one style.
Newborn Hire Kits Available
We have a variety of kits to suit all manner of size newborns, family fabric or fastening preferences. Details on each kit are below.
Bimbles - A two part nappy system. Our most versatile for fit, reliable with soft fleece lining. Comes with a mix of Mother-ease Airflow and Rikki wraps.
Mother-ease Wizard Duo Stay Dry - An All in Two system. Our fastest drying kit with the Mother-ease unique Staydry layer.
Sandys XS Cotton - A two part nappy system. Natural cotton in side fastening poppers. Excellent absorbency. Comes with a mix of Mother-ease Airflow and Rikki Wraps.
Sandys XS Stay Dry - A two part nappy system. Natural cotton but fully lined with the Mother-ease staydry lining so no separate liner required. Side fastening poppers. Excellent absorbency. Comes with a mix of Mother-ease Airflow and Rikki Wraps.